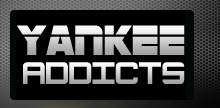 April 9, 2010 · Doug Rush · Jump to comments
Article Source: Bleacher Report - New York Yankees
Friday night's game against the Tampa Bay Rays was the first time since 2004 that Javier Vazquez officially took the ball for the Yankees.
Most remember how bad that ended up, especially since it led to his departure from New York.
Unfortunately, his first start back wasn't any better than what most hoped for.
After Alex Rodriguez's RBI triple followed by an error gave the Yankees an early 2-0 lead, it looked like Vazquez could have a chance to settle down and control the game.
The Rays offense had other plans for the night.
Carlos Pena quickly tied the game with a two run home run. Dioner Navarro's RBI single put Tampa ahead 3-2 and Jason Bartlett's RBI double made it 5-2.
While the Yankees offense didn't have an answer for David Price, the Rays continued to pound Vazquez, especially with Willy Aybar's two-run home run, Carl Crawford's RBI single, and Ben Zobrist's RBI single, which made it 9-2 and knocked Vazquez out of the game.
Vazquez tried as best as he could to chew up innings, going 5 2/3 innings, but allowed eight hits, eight runs, walked three, and struck out five while throwing 98 pitches.
The Yankees offense was put to bed by Price, who went 7 2/3 innings, allowed seven hits, three runs, and struck out seven batters. Aside from A-Rod's triple and an RBI double by Nick Johnson, the Yankee bats were silent and most of that was because Price was throwing well.
Now, it's only one start for Vazquez in April, but he has a lot to learn from this. A lot of Javy's pitches stayed far too high in the zone, especially the home run ball that Pena crushed into the right field seats.
Vazquez got into a lot of high counts too soon and it ended up catching up with him. If back in Atlanta, he might have gotten away with some of those pitches, but this is the A.L. East and a good Rays lineup, so Vazquez must make the proper adjustments needed for his next start.
I did like the fact that despite losing in the game, Vazquez continued to battle and work and not allow Joe Girardi to expend the bullpen tonight. He tried to get to six innings, but he fell a little short.
I also know some of the fans might jump on Javy, especially since their last memory of him was in 2004 in Game 7 of the ALCS, but this is a good pitcher who just had one lousy game in April. That's all you chalk it up to and move on.
Sergio Mitre looked halfway decent in long relief for the Yankees, pitching 2 1/3 innings, allowing one run on two hits and striking out one. Mitre pitched well enough to not allow Girardi to use any other relievers aside from Mitre, so in a blowout, that's a good job to not allow your bullpen to get beat up.
The Yankees will continue the series tomorrow by sending up their ace in CC Sabathia for his second start of 2010. He will also need to adjust better from his previous start if the Yankees look to rebound.
Read more New York Yankees news on BleacherReport.com