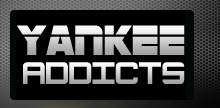 April 21, 2010 · Doug Rush · Jump to comments
Article Source: Bleacher Report - New York Yankees
While most of the East Coast was preparing to go to bed or were already asleep, the Yankees were preparing to start the first of a six game West coast trip.
It was the first game against the Oakland A's, a young team overall both on the offensive side and the pitching side as well.
Oakland was also coming into the game in first place of the A.L. West division because so far, their young pitching has done a fine job.
However, when you put young pitchers up against good, patient hitters who don't get themselves out, like the Yankees offense, those young pitchers might be in for a bad day.
On Tuesday night, Oakland's Gio Gonzalez was no exception.
Gonzalez got into major trouble early in the first inning, loading the bases for Jorge Posada, who hit a grounder to Daric Barton but who couldn't get a grasp on it and allowed the first run to score, keeping the bases loaded.
Nick Swisher then drove a Gonzalez pitch into right center for a two-run RBI single and the Yankees were quickly up 3-0. By the end of the first inning, Gonzalez had already thrown over 30 pitches.
Gonzalez's counterpart, Javier Vazquez, came in 0-2 and with a lead given to him, just needed to get into a rhythm and pitch well enough to keep it.
After two terrible outings, the third one was much better as Vazquez struck out two batters in the first and seemed like he was in better control of his stuff.
Oakland looked like it might get to Vazquez in the second inning with runners on second and third with nobody out, but after a ground-out to Alex Rodriguez, forcing the runner out at home and a double play started by Vazquez, he escaped further trouble.
In the fifth, Gonzalez got himself into more trouble by walking Nick Johnson and Mark Teixeira, which set up a three-run home run for A-Rod to put the Yankees ahead 6-0.
Gonzalez finished pitching four and a third innings, allowing three hits, five runs, five walks and struck out five and took the loss.
Vazquez did allow two home runs in the game, a solo shot to Travis Buck and a two-run shot to Kurt Suzuki, but the Yankees' offense gave him enough runs to where he could keep the lead and not fret too much.
Vazquez went five and a third, allowed six hits, three runs, walked three and struck out six hitters and picked up his first win.
Vazquez's stuff wasn't overpowering and dominant, but it was just good enough for the Yankees to control Oakland in the game and get Javy some confidence with that first win.
The Yankees bullpen continues to be very good and holds onto leads late in games.
With Chan Ho Park on the disabled list, Boone Logan, who was acquired in the Vazquez trade from the Braves, was called up and pitched in his first game with the Yankees.
Logan went one and a third and came close to getting out of the seventh inning, but did depart with the bases loaded after allowing two hits and a walk.
Joba Chamberlain came in and struck out Kevin Kouzmanoff with the bases loaded on a devastating slider that Kouzmanoff couldn't hold up on. Joba pitched a scoreless eighth inning with two more strikeouts.
Joba continues to get stronger and more confident back on the mound while his ERA shrinks even more, currently it's at an impressive 2.35.
The A's just seemed like they were over-matched by the Yankees in the game. Their young hitters whiffed at a lot of pitches and if the Yankees pitching continues to throw well, the A's hitters could end up with terrible averages for the rest of the series.
One advantage the Yankees had was facing one of their former relief pitchers in Edwar Ramirez, who was moved because of his control struggles.
Ramirez did pitch two innings and struck out two, but allowed four walks and a run. Again, another young pitcher with control issues struggling against a patient team like the Yankees.
The Yankees on the other hand, were expected to win and did win this game. The Yankees offense is better than Oakland's and the Yankees pitching is better than Oakland's.
Tonight, the Yankees will send Phil Hughes up for his second start of the season against perhaps Oakland's most experienced pitcher, Ben Sheets, who is making his second start of the season as well after missing the entire 2009 season with elbow troubles.
Read more New York Yankees news on BleacherReport.com