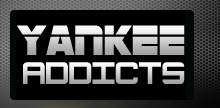 October 9, 2010 · mike mirabella · Jump to comments
Article Source: Bleacher Report - New York Yankees
Throughout the 2010 season, the New York Yankees had many pitching issues. Like with A.J. Burnett, he was about as frustrating a pitcher you can come across. What about Andy Pettitte, going down with an injury mid-season and forcing a spot-starter to go in his place.
And then there's Javier Vasquez. After starting the season much like Chien Ming-Wang did last year, Vasquez had a stretch when he was as good as anyone pitching on a mound.
However, since the All-Star break, it seems like Vasquez has lost it, whether it be mentally or physically. He went through a "dead-arm" stage where he couldn't even break the 90's. Now, manager Joe Girardi and pitching coach Dave Eiland as well as numerous Yankees fans are scratching their heads. "What happened to him?" they're asking themselves. "Where's the guy that almost won the Cy Young last year?" others say.
I believe that Vasquez hasn't been as dominant as he was last year, and I know this sounds like a cliche, but I think its because he's not in the NL anymore.
Think about it, remember that Game seven collapse in '04 when he gave up that homer to Johnny Damon? Yeah, so do I. But then, out of nowhere, here comes Javy last year pitching like a maniac and striking out batters 238 times. He also had a 2.87 ERA compiled along with a 15-10 record.
So then why has he under-performed this year? Could it be because he just can't pitch in New York, or that he is like A.J. Burnett and is as hot an cold as a tea kettle in 5 minutes (but then again, the tea kettle's more consistent).
Again, what I think the problem is is that Vasquez is meant for the National League.
However, now he is off the roster and Girardi might bring him up in the WS if the Yanks get there. What makes the scenario even more interesting is that New York will need a fourth starter this year unlike last, and honestly, do you want to go to Burnett done two games to one or even worse, three to none? I sure as heck know I don't.
Also, what if New York's up two to one of 3 to none, do Joe Girardi and the Yankees use Vasquez in a situation when the other team's back are against the wall?
Only time will tell, but it will make for a interesting situation if it does indeed occur.
Read more New York Yankees news on BleacherReport.com