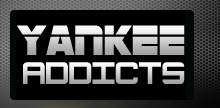 May 11, 2009 · Yakbino · Jump to comments
Article Source: Bleacher Report - New York Yankees
I just want to say that I'm sick of the way all the New York and all the Tri-State sportswriters trash the Yanks. I know any respectable Yankee fan wants to see the boys go practically undefeated; I know, I'm one. But really folks, let's get serious. If your team was in the situation the Yanks are in, I couldn't blame you if you wanted to sit on the couch, hide under the cushions, and hope for the best tomorrow. But don't hang your batting helmet up already, 'cuz it's a long season.
I'm not sure, but I think, at least the last time I checked, the baseball season is about 162 games. As a franchise in today's market, especially after building a multimillion dollar stadium, and having what it seems like, a multigazillion dollar payroll, we all expect the Bronx Bombers to blast the ball all the way to Beantown. But in all reality, these are guys just trying to get acclimated to their job again. I know that there are other teams going three and four games in front of us, but like I said, it's a long season.
As much as you might disagree, A-Rod is back. He has a hot bat, and if anything, inspires the team to do better. Wang will find the strike zone soon, so don't worry. When he's back and finds his groove, look out. And don't you worry, he will be back. The captain is getting up there in years, but you have to agree, he is still one of the best at his position. Melkey is young, and only will get better, and same with Cano. Than there is the hot bat of Damon. With all this proven talent, I have to say, we are only gonna get better.
So, as an optimist and realist, I know there is a lot of baseball left to play. There is a lot of time for the boys to come together, and there is a lot of time for the Sox to fall apart. So, for all you so-called fans who gave up on your team the second week of May, and all those sportswriters in the Tri-State area with nothing better to write about: IT'S A LONG SEASON SO RELAX, 'CUZ THE YANKEES WILL WIN THE AL EAST THIS YEAR!