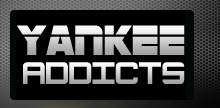 June 23, 2009 · Dan Morra · Jump to comments
Article Source: Bleacher Report - New York Yankees
I have been a Yankee fan for many years, and "fan" is certainly short for "fanatic."
I am often consumed by how good or bad the Yankees are doing (I agree with my wife on that).
True, that is sad, as I am a pediatrician, have three young boys, and many more things to worry about, but I still do a great deal of thinking about the Yankees. I look at the baseball season as one of my "hobbies."
One of my pastimes, mostly when I'm trying to vent about the team that everyone says should do better because of their payroll, is to review the Yankees throughout the year.
I lament with friends and family about how a team that should do so well happens to underachieve every year—well, at least every year since 2000.
I decided to write this today, as I live in the St. Louis area and hear the daily bashing of the Chicago Cubs and how they always have the "oh well, there's always next year" attitude.
Now the Yankees never have that attitude, but it's scary that I'm even thinking about the Cubs and the Yankees at the same time. It's not time to say that—is it?
I would like to generate some discussion among Yankee fans and I have some comments and recommendations for the team so it can return to the World Series and put all of us spoiled fans at rest.
The review will be unit-by-unit (infield, outfield, etc) so as to keep the article shorter—as I could say something about each player, but will not.
I have also given grades, not to say that I know more than anyone else, but it will serve as a comparison between areas of the team.
Manager
Joe Girardi has certainly been one of the major underachievers on the Yankee team.
He does not play on the field, but when he has set foot on it, he certainly has caused some confusion.
He has certainly overanalyzed many situations in many games, often outmaneuvering himself and not looking at the big picture of winning a game.
Girardi, as Buck Showalter used to do, relies too heavily on stats that indicate what a pitcher or hitter should do in a particular situation, based on what they have done in the past.
True, past history does help us determine what might happen, but current history sometimes indicates otherwise.
Decisions to pitch Jose Veras, Phil Coke, and Brett Tomko, for instance, have often backfired badly. Sticking with Chien-Ming Wang when there is obviously something wrong with the pitcher right now is another fault.
Many fan blogs certainly have remarks on decisions Joe has made that have been questionable. Does he have to go? I don't know, but things don't look too good for him right now. Lou Piniella or Bobby Valentine could be coaxed into coming to New York.
Grade: D
Pitching
Ah, where do we start?
When the Yankees were good, their pitching was a strength. We had no doubts about pitching in 1998, for example, when every starter was reliable, and every reliever could close the door on opposing teams' rallies.
Today is a different story, and it is one of the reasons that I believe the Yankees, the way they currently stand, are not a World Series team.
Starters have performed either very well or very badly. C.C. Sabathia, A.J. Burnett and Andy Pettitte have pitched well at times, but certainly are not "lights out."
They have their troubles and have given up runs at inopportune times. This, along with the lack of clutch hitting and defense, has led to many losses, including many of the eight losses to you-know-who.
They need to sign another starter (Jake Peavy would have been nice, Johan Santana would have been great).
Joba Chamberlain and Phil Hughes seem to be this odd "two-headed pitcher" in many games, which is a way I think Girardi is telling us that neither one should be pitching more than four or five innings at a time.
The relievers have flashed moments of brilliance, but these moments are the exceptions. All of the Yankee relievers should get no more than a C for their performance this year, and that includes Mariano, who might be winding down and might step down in favor of Joba in a couple of years.
Grade: C-
Defense
The long streak without an error would not have occurred had it not been for Mark Teixeira.
Many physical and mental errors have kept the Yankees in a very tenuous position when they're in the field.
Outfield defense is somewhat reliable only for the routine flies, even though Brett Gardner might run down a ball in the gap or two.
All of the arms in the outfield are like limp noodles, and even the average runner could take an extra base on a single. Even Jacoby Ellsbury took an extra base, and that happened to be home plate!
Austin Jackson is sitting in the minors waiting for the opportunity—I think now would be a good time.
Catching has been a bright spot, as Francisco Cervelli has surprised everyone (except those who saw him in the minors). Jose Molina would be a fine No. 1 catcher when he returns, and Molina and Cervelli would be a good one-two punch.
Offense would suffer, but perhaps Jorge Posada could provide help as a DH.
Grade: C (A for Teixeira)
Offense
Few games have seen the Yankees succeed with runners in scoring position. Today, their RISP average sits at about .260, which certainly is not something about which they can brag.
An inexplicable inability to hit pitchers that are new to them has been an ongoing problem for years, and speaks to the Yankee hitters' lack of adaptability to different pitchers and pitches that they have never seen.
It might also speak to scouting deficiencies, or the inability of scouts and coaches to communicate different ways to approach different pitchers.
If the hitters, even superstar hitters, remain locked in with one hitting style (see: Giambi, Jason), pitching to them becomes that much easier.
One of the most bizarre aspects of the Yankees is their ability to hit Tim Wakefield's knuckleball, while looking completely baffled at a Washington National rookie fastball.
The Yankees have plenty of talent, but it needs to be put to use.
Grade: C-
Ownership and Management
Hank and Hal Steinbrenner make suggestions, but are nowhere near as forceful or as influential as their father.
They have put the team into the hands of Brian Cashman, and I believe Cash is all thought-out.
Bob Watson and Gene Michael did a great job of finding the important cogs to make the Yankee wheels turn.
Cash has seriously just spent a lot of money. In 1998, Paulie, Bernie, Tino and company made a small part of what today's team makes, and won 125 games and a World Series title.
I have always said this about the Yankees, but it's about the players, not the money.
Hopes
I think any hopes of the postseason for the Yankees this year, or lack thereof, are certainly premature.
The Yankees have to show more in all aspects of the game if they want to be on the same page as today's current division leaders, especially with their current record against the Red Sox.
They might slip into the playoffs if another team happens to under-perform more than they do, but they've never been a "back-door" kind of team and I hope that doesn't start now.