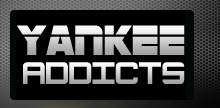 March 9, 2010 · Eric Stashin · Jump to comments
Article Source: Bleacher Report - New York Yankees
Injury after injury after injury. That's what instantly jumps into my mind when someone asks me what I think of Nick Johnson. How many players have hung around for so long, yet since making his Major League debut in 2001, has only reached 500 AB in a year once?
To be fair, that statement is a little misleading. Thanks to an elite eye at the plate (career 15.6 percent walk rate), he doesn't have the AB, since a walk isn't included. Still, he's only reached 500 plate appearances three times. He's reached 600 plate appearances just once.
Yet, teams are constantly willing to take the plunge. This year it's the Yankees, who view him as a replacement for Johnny Damon in the second spot in the lineup (at least from the outset). His solid 2009 campaign certainly has a lot to do with that stance:
457 At-Bats
.291 Batting Average (133 Hits)
8 Home Runs
62 RBI
71 Runs
2 Stolen Bases
.426 On Base Percentage
.405 Slugging Percentage
.338 Batting Average on Balls in Play
The power is concerning, but moving into the new Yankees Stadium should help to give him a boost there (just look at Johnny Damon), though that alone is not the solution. The fact is he has a career HR/FB of 13.0 percent and was never below 10.9 percent before last year's 6.2 percent. His track record alone speaks volumes.
No, he's not likely to be a 20+ home run option, but if he can get himself back into the 14-17 range, he's going to have value to fantasy owners, though not as a starting 1B. Obviously, given the depth at the position, he can't compete. Does James Loney have value in your format, however? Just think about that when you are considering Johnson's power.
If he does indeed open the year in the number two hole, he could be an excellent source of runs. Given his ability to get on base, with Mark Teixeira, Alex Rodriguez and company waiting to drive him in? It's a perfect situation.
Will he score 100+ runs? He certainly could, if he spends the entire season there, but that is no guarantee. The team certainly could opt to use Curtis Granderson there at some point, dropping Johnson towards the bottom of the order and limiting his ability to score.
The average is a bit of a misconception with Johnson. People seem to think he's this great hitter, yet he's never hit above last season's .291. In fact, his career mark is just .273. Does that sound elite?
He does a great job of getting himself on base with the walk, but he still strikes out nearly 20 percent of the time. Just look at the past four seasons:
2005 – 19.2%
2006 – 19.8%
2008 – 22.9%
2009 – 18.4%
With that type of strikeout rate and the lack of home runs, he would need an above average BABIP to truly bring a great average to the table. At .311 for his career, it's just not there.
Now, my projection for him for 2010:
.303 (144-475), 14 HR, 75 RBI, 90 R, 3 SB, .355 BABIP, .429 OBP, .451 SLG
The average is extremely unlikely, in all honesty, but my gut just tells me that if he stays healthy, he can have the type of season everyone has been waiting for. Still, it's just not enough to make you consider him outside of the deepest of formats.
Without the power and RBI, he just doesn't bring enough to the table to make him a viable 1B. Even with the extreme luck I gave him, he slides in as the 26th best on my draft board. That means, at best, I'd use him as my utility player. More likely, he's a bench option and short-term fill-in.
What do you think? Could Johnson be usable this season? How much of an impact will the new Yankees Stadium have?
If you would like to see a free preview of the Rotoprofessor 2010 Fantasy Baseball Draft Guide (available for just $5) now including a Top 50 Prospects for 2010 List, click here .
Make sure to check out some of our 2010 projections, including:
THIS ARTICLE IS ALSO FEATURED ON WWW.ROTOPROFESSOR.COM
Read more New York Yankees news on BleacherReport.com