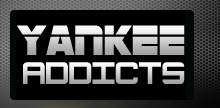 November 23, 2010 · Paul Brassard · Jump to comments
Article Source: Bleacher Report - New York Yankees
New York Yankee SS Derek Jeter has been reportedly told he will not be offered arbitration by the club. It has been widely reported that there is a large gap between the Jeter and Yankee camps. Rumor has it that the Yankees are holding fast at a three-year offer in the neighborhood of $15 million per season. Meanwhile Jeter's camp is reportedly looking for more years and a higher annual salary.
Most surprising though may be the public nature of some of the comments issued by each camp. A quote attributed to Yankee GM Brian Cashman appeared on ESPNNewYork.com. "We've encouraged him to test the market and see if there's something he would prefer other than this. If he can, fine. That's the way it works."
Wow. I can't imagine this type of public announcement can sit well with Jeter. So what does Jeter do next? Look there are scenarios that may be more plausible but if Jeter really feels jilted and is not willing to take (in his opinion) a "hometown discount" I may just have the solution.
Imagine if there was one place that Jeter could go that would:
A. Be a good fit
B. Hit Cashman where it counts
Well as it turns out there is such a place: The Boston Red Sox.
OK. It sounds crazy, and it probably is, but can you imagine the reaction? The Red Sox have two championships in the last seven years so to some extent they have exorcised all demons from their tormented past.
However a quick check of baseball history shows a decidedly pro-Yankee slant when looking at players who have moved from one organization to the other. Sparky Lyle for Danny Cater…really?
Free agents like Wade Boggs and Johnny Damon left the Sox for greener ($$$) Yankee pastures. Roger Clemens had a two-year stint in Toronto post-Boston, but ultimately ended up winning another (tainted) Cy Young award in the Big Apple. And then there's George Herman Ruth and the ensuing 86 years of angst. There is an inequity here evident to even the most casual baseball fan.
Red Sox GM Theo Epstein is cool customer himself when it comes to making baseball decisions, rarely letting emotion dictate his course of action. It is unlikely that Epstein and Co. would pursue Jeter just to stick it to the bombers. But could there be solid baseball reasons for making the move?
Jeter is coming off a disappointing 2010 season and will turn 37 next season. The chance of him getting a contract offer from Boston longer than the three years offered by the Yankees is probably slim to none. However no one has ever questioned Jeter's conditioning and with an incentive to live up to the hype (potentially at the Yankees' expense) Jeter could work in a Sox uniform for the next three years. There certainly could be a need.
Think about it. It's been reported today that Victor Martinez has signed a four-year contract with the Tigers. Martinez played nearly 40 games at first over the last couple seasons in Boston. He's gone. Meanwhile third baseman Adrian Beltre is testing the free-agent market. Epstein has talked about moving Kevin Youkilis to third but with no Martinez the 1B spot gets a little thin.
David Ortiz can play some first but it's no secret that he's probably a better fit at DH. Jeter could fit into the third-base slot leaving Youkilis to stay where he is. Jeter is probably a better defensive fit at third base at this point in his career (regardless of the insane Gold Glove award he just received).
Meanwhile the Sox have some uncertainty at SS and have reportedly had offers for incumbent SS Marco Scutaro. Imagine having the luxury of using Derek Jeter as your SS "in a pinch."
OK, back to reality. This is probably never going to happen. The money and years Jeter is looking for would seem to preclude any serious consideration. And I'm not sure Jeter would offer the power that the Sox would ideally like to get out of a corner infielder either. But wow, would this be a shot across the bow of the Evil Empire.
The ultimate dagger to the Yankee nation heart.
I wonder how it would be received. Would Red Sox fans welcome him with open arms? Jeter has been the symbol of all things Yankee for 2,300 games…can that just be switched off? I doubt we will ever find out, but it sure is fun to think about.
Read more New York Yankees news on BleacherReport.com