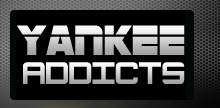 December 23, 2009 · Doug Rush · Jump to comments
Article Source: Bleacher Report - New York Yankees
We have all been aware of the changes the Yankees made so far in the nearly two months removed since they won the 2009 World Series.
They brought in Javier Vazquez, Nick Johnson, and Curtis Granderson, while Hideki Matsui and Phil Coke departed to other teams.
As of right now, Johnny Damon's status is unknown.
Some feel like he might be back with the Yankees, and some feel like he won't be coming back.
According to the New York Daily News , the Yankees are not interested in bringing Damon back, especially with his contract demands.
So if the Yankees are really moving on without Damon, they still have to solve the left field situation, because as of right now, there is no current starter out there.
Many have said that Yankees General Manager Brian Cashman said on an MLB Network Hot Stove show that they may be looking to add another player. According to the interview, when asked about possibly bringing someone in to the Yankees, Cashman's exact quote was:
"We haven't officially announced anybody that's been in the news recently," Cashman said. "You gotta dot your I's and cross your T's and stuff like that. (It's) something I'm sure you guys have already talked about, but we haven't."
Many feel like if it means "crossing T's and dotting I's," then a possible contract is in the works, and maybe a left fielder is in the works to be brought in.
Many feel it could be Mark DeRosa, a New Jersey native who played last season with the Indians and Cardinals.
Right now, the only offer made to DeRosa has been from the Giants, according to Sports Illustrated 's Jon Heyman, who said the Giants' offer is at two years and around $12 million.
But apparently, DeRosa is waiting for another offer, preferably from an East Coast team like the Braves, Mets, or Yankees.
The Braves already have a crowded outfield, plus just signed Troy Glaus to go along with Melky Cabrera, so some aren't sure if Atlanta is a fit.
The Mets could use him, but the Mets aren't exactly moving quickly to sign anybody at this point, so right now, the Mets aren't in.
This leaves the Yankees, who have an opening in left, especially if Damon isn't brought back.
According to what the Yankees are looking to spend and keep within a budget, they have between $4-6 million to spend, money that might suit DeRosa.
In 2009, DeRosa hit just .250, but did hit 23 home runs and 78 RBI with the Indians and Cardinals. However, unlike Damon, he doesn't have the No. 2 hitter-like tendencies.
In 2009, he struck out 121 times and his on-base percentage was .319, which was down a lot from his .379 mark in 2008 with the Cubs.
So if the Yankees do move on DeRosa, Nick Johnson would likely move into Damon's old spot as the No. 2 hitter, and DeRosa would probably slide down towards the bottom of the order.
Whether the Yankees will actually bring in DeRosa or not could all just be speculation, but if the Yankees are being budget cautious and are looking for a cheaper option to complete their outfield, DeRosa could end up in pinstripes.
It may be why DeRosa has not accepted the Giants' offer; he could be looking to play closer to his hometown area.
DeRosa can also play different positions. In 2009, he played first, second, left, and right field to go along with third base, which was his main position with the Cardinals.
If DeRosa is as willing to play for the Yankees, he may have to take somewhat of a pay cut, and ask for less in order to play for them.
But this sort of thing could end up being a popular decision to fans: seeing a hometown guy take less money to play for a team he grew up liking.
Maybe DeRosa in the Bronx might not be such a bad thing after all.
Read more New York Yankees news on BleacherReport.com