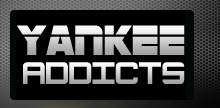 April 23, 2009 · Sean Serritella · Jump to comments
Article Source: Bleacher Report - New York Yankees
There's someone that works for the state of New Jersey that I know and he always comes to visit me to see how I'm doing, since I'm disabled. We'll talk about me for about five minutes and then the next 20 minutes we'll talk about the Yankees. He's a big Yankee fan.
He doesn't think Jorge is a good defensive catcher. He thinks he is terrible. I didn't think anything of what he was saying until he told me to check out stats of when Jorge starts to when Jose Molina starts. I did check out the stats.
Jorge Posada started 13 games this season. In those 13 games, Yankee pitchers have given up at least five runs seven times. The Yankees have given up, with Jorge catching, at least 10 runs four times.
The part that got me is that Jorge started "at" Baltimore when the Yankee pitchers gave up 10 runs and "at" Tampa when the Yankee pitchers gave up 15 runs. There are no wind tunnels there.
It's a small sample size that Jose Molina started but when he did start, the most runs the Yankee pitchers gave up were six runs to Kansas City. Two of those runs were unearned because of a Nick Swisher error. The other games he started, the Yankee pitchers have given up two runs, three runs, two runs, and three runs.
You can say this is because he catches AJ Burnett and AJ is a great pitcher right now, but Molina also has to catch the same bull pen. In 10.1 innings that Molina has caught the bull pen in which he started, it has given up 3 earned runs, and all the runs came in the Kansas City game. Minus the Kansas City game and the bull pen has given up no earned runs in 10 innings in which Molina started.
To be fair, Jorge Posada did catch the games where the opponent only gave up one run twice, to Kansas City of all teams, two runs to Tampa, three runs to Tampa, three runs to Cleveland, and three runs to Oakland.
Molina has only started one time at the new wind tunnel Yankee stadium in which Burnett gave up three earned runs and the bull pen gave up none.
The Yankees are 8-6 with Jorge Posada starting. The Yankees are 4-1 when Molina starts. The sample size really isn't big enough to see if the Yankees win more with Molina catching but it's something to look out for.
This article was also featured at http://www.yankeesdaily.com