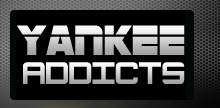 June 4, 2009 · Lenny Neslin · Jump to comments
Article Source: Bleacher Report - New York Yankees
Chien-Ming Wang was reinserted into the rotation yesterday, shifting Phil Hughes to the bullpen. Hughes joins a disorderly bullpen, which poses the question of what role to give Hughes.
Last night on Baseball Tonight, analyst Steve Phillips suggested that Hughes could benefit the bullpen as an eighth inning pitcher. He claimed that Hughes is fit for the eighth because he is a "swing-and-miss pitcher." Wang is the opposite of that.
Phillips makes a solid case for Hughes, but he would not be pitching a lot of innings if he was just the eighth inning guy. Do the Yankees need to have one, or two guys designated to the eighth inning? Or should they keep operating on a night-by-night basis?
The bullpen pitchers' roles aren't etched in stone, so let's look closer at the situation. Here are the current six pitchers in the pen other than Mariano Rivera (because we already know where he fits in):
Alfredo Aceves: He is by far the most trusted reliever. He can give you any number of innings you want, and when you want.
Brett Tomko: He has pitched in a lot of one-sided games. As a former starter, I think of him as a less talented Aceves.
Hughes: It is undeclared whether he will be a one-inning pitcher or long reliever. I would hope the latter, as he needs to rack up innings somehow at the major league level.
David Robertson: He is a one-inning pitcher, and an effective one. But is he a true set-up man?
Phil Coke: He had an awful May, and averaged just under an inning for each appearance. He's already lost three games and holds a 4.79 ERA.
Jose Veras: He has the stuff of a set-up man, but the control of a Triple-A pitcher.
Here's how I would divide it up. Aceves and Tomko pitch one to three middle relief innings in close games, while Coke and Veras do the same but only in blow outs. That leaves Hughes and Robertson to pitch the late innings of close games.
Going into the season, Brian Bruney and Damaso Marte were expected to split eighth inning duties. Due to injuries, neither one has pitched a lot nor effectively.
Anyways, how should the Yankees handle their bullpen?
Hopefully with Hughes now in the bullpen, the Yankees will have more success as they try and get the ball to Rivera in the ninth.