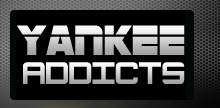 May 19, 2009 · Steve Chott · Jump to comments
Article Source: Bleacher Report - New York Yankees
On May 5 of this year, the New York Yankees were hurt badly when they lost starting catcher Jorge Posada to injury. Posada already had five homers and 20 RBI and was looking good as new.
This injury wasn't a surprise, though, because Posada has been banged up for a while.
But there was no need to worry, as the Yankees had a dependable backup in Jose Molina.
And for two days, Molina started until he went down himself with a quad injury on May 8.
Now it was time to panic for Yankees fans. Who were we going to go to with our starter and backup both injured?
And the answer was in Venezuelan-born catcher Francisco Cervelli.
Cervelli was signed by the Yankees in 2003 and has been sitting in the minor leagues, waiting for his chance. He struggled in his first two years with the Single-A Staten Island Yankees but then played exceptionally well the next couple of years with the Tampa Yankees.
Cervelli also played for Team Italy in the 2009 World Baseball Classic.
Baseball America magazine ranked Cervelli as the 23rd best prospect in the Yankees' system before the 2008 season.
So when Cervelli stepped in for the Yankees' pair of hurt catchers, we expected a guy who would be decent while filling the hole in the catcher's position.
But what we have gotten is different. We have seen a unique talent.
Cervelli has stepped in and batted .375 with two RBI in nine games. But what sets him apart from other catchers is his speed.
Speed is very unusual attribute for these usually big players who sit behind the plate and block pass balls, but Cervelli has it.
Now we all know that we can't judge whether a player will become a star in nine games, but with Posada and Molina both aging, Cervelli could be the catcher for the future in New York.
He posses good arm strength, consistent hitting, and, of course, the good speed I talked about earlier. With these attributes, I think Francisco Cervelli is the catcher of the future in New York.