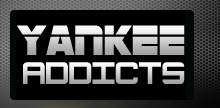 April 20, 2009 · Forrest Kobayashi · Jump to comments
Article Source: Bleacher Report - New York Yankees
Chien-Ming Wang, a starting pitcher for the New York Yankees, has had an absolutely terrible start to the season. In three starts this season, his record is 0-3 with an ERA of 34.50 and a 2/6 K/BB ratio. Is this guy worth taking a chance on in your fantasy league?
Prior to the start of this season, Wang had been showing declining control.
2006: 2.1 BB/9
2007: 2.7 BB/9
2008: 3.3 BB/9
It is not good that he has struggled so much with his control at the beginning of the 2009 season. Already with six walks, it does not look like he is locked in.
That being said, Wang's pure stuff (strikeout skill) appeared to have been on the upswing, averaging close to 5.1 strikeouts per nine innings just last season.
It is too early to diagnose a walk problem for Wang, but he could be in serious trouble here. If a lingering injury is to blame and the strikeout skill is not there, Wang is not "rosterable" in any format.
That being said, three terrible starts in a row is not very common. Wang should rebound eventually, but to the extent of being a reliable fantasy pitcher? That remains to be seen.
In terms of rostering Wang, it depends on your league format, first and foremost. If you are in a league with 10 teams, five by five, 29-man roster setups, this guy is a borderline bench add.
But you have to keep him in reserve until he proves that his strikeout rate is back in line and can limit the walks.
Wang may not be a helpful fantasy commodity for the first half of this season—possibly longer—so be prepared to wait it out if you do roster the guy.
Check out Fantasy Baseball Flash for all the latest fantasy baseball information, analysis, and updates. Also, please follow me on Twitter: forrestfanatic.