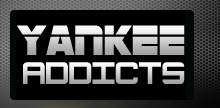 December 17, 2009 · Aaron Torres · Jump to comments
Article Source: Bleacher Report - New York Yankees
(Aaron Torres is a journalist whose work has been published by Sports Illustrated and syndicated by USA Today and AOL.com. To read all of his work, including this article in its entirety , please click here, or visit him at www.aarontorres-sports.com )

Out of every sport, baseball is the one I go furthest back with.
In my formative years, I was watching Braves and Red Sox games every night, while my peers were ingesting unhealthy amounts of Sesame Street and Power Rangers (all right, I can't lie, I watched the Power Rangers too).
I played from the time I was barely old enough to tie my own spikes all the way until my high school graduation. It's the sport whose strategy and tactics I understand the best, making me annoying to watch postseason baseball with, as I turn into an armchair Tony La Russa any time something even semi-exciting happens:
Well, if you double-switch this guy with that guy, then the pitcher doesn't have to bat until the 11th inning, we improve defensively at second base and right field, there won't be a lefty vs. lefty matchup for eight batters, and…
Meanwhile, whoever I'm watching the game with gives me the same stare your grandpa does when it's time for him to go to the proctologist: Aaron, I really don't care what you think about this double switch. Just shut up so I can enjoy this game!
Yet out of every sport that I do watch, baseball is still the one which I write about the least, and it really isn't even close. During football season I spend way too much time thinking about Saturday and Sunday's matchups, the problem of every team only having one game a week.
What's the weather going to be like? How will Mark Sanchez handle that 3-4 defense? Should I really have wagered my unborn daughter's college money with Les Miles on the road?
During basketball season it's the same, as I study players' body language like Dr. Phil, all the while trying to figure out who I should pick in my NCAA Tournament pool or trade for in my fantasy league.
As for Major League Baseball, well, it just doesn't interest me. As far as I'm concerned, it's seven months of the most egregious over-analysis there is anywhere. We sit there and stress one night because Chase Utley went 0-for-5 with five strikeouts, wondering if "maybe the game has passed him by," and then watch the following night as he goes 4-for-5 and instantly becomes a Hall of Famer again.
We have stupid arguments with our friends like, "Seriously, who should we try to trade for as an extra outfielder, Emil Brown or Rocco Baldelli?" Umm, wait a minute…who cares! It's our fourth outfielder! But that's what we do in July. It's 85 degrees, and we're drinking beers at the beach. We just need something to argue about.
Ultimately, none of this stuff matters, because over 162 games lots of stuff happens. A lot of stuff.
Guys go in and out of slumps, get hurt, quit on their teams, and get in bar fights on the road. They get promoted and demoted from the minors, traded, and are sometimes given their outright release.
But after those same 162 games, everything gets figured out organically. It always does. We really didn't need to argue about Brown or Baldelli; 162 games settled the debate on the field. Just like during that same time it was established that the Yankees were the best team in the American League, and Tim Lincecum was the best pitcher in the National League.
After seven months of regular season baseball, no stone is left unturned. It can't be.
This is why I only watch baseball in passing until the postseason. The baseball regular season is a huge sample size, and no matter what happens in March-September, everything always sorts itself out by October.
Which brings us into the offseason, and mainly the last 10 days, into a time affectionately known in baseball circles as the "Hot Stove Season." During the past week and a half, the following things have happened, completely reshaping next season in the process…
(To read the REMAINDER of this article, and the rest of Aaron's work, please visit him at www.aarontorres-sports.com)
Read more New York Yankees news on BleacherReport.com