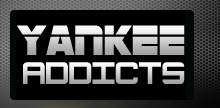 March 24, 2010 · Average Joe · Jump to comments
Article Source: Bleacher Report - New York Yankees
I come at this with a bias; this I admit willingly.
You see, I am a Tampa Bay Rays fan.
I would love nothing more than to see the Evil Empire crumble and fall and watch Hank Steinbrenner go off his meds and give his best "like father, like son."
Every year I hope that the "aging" Yankees finally, well, show their age.
Every year people wonder when these three players' stars will begin to dim.
The born-and-raised Yankees, Derek Jeter, Jorge Posada, and Mariano Rivera, have made it into the second generation of Steinbrenners. Jeter, 35, Posada, 38, and Rivera, 40, are the three constants that have held everything together.
All three players debuted together in 1995. They played in the house that Ruth built. Now they are playing in a stadium they have built. Fifteen years since their debut, they are as strong as ever. Like the Energizer bunny, they just keep going.
Can they do it for another season?
I hope not, but I didn't want my hope to be dreams. I wanted them based in reality.
Here is what I found.
Despite all the criticism about Jeter's lack of range defensively, he knows how to make the most of what he's got. With more teams shifting to a focus of run prevention, more eyes are watching Jeter. It may cause him to be moved to another position.
Eventually.
What he may lose in range, he tends to make up for in preparation. What keeps great players great well into their twilight years is how much they work to keep themselves at the top. Their smarts help them when their talent may not.
Speed isn't a problem yet either, coming off a 30-steal season.
Offensively Jeter has not shown any signs of regression. Last year he hit .334 with an OBP of .406. I hoped to see if he had slowed down at all from the beginning to the end of the year, and it only got worse…for me, that is. Jeter was actually BETTER after the All-Star Break, hitting .351 in his final 291 at-bats.
As much of a stalwart as Jeter has been for the offense, Rivera has been the same for the pitching staff. For 15 seasons, "Enter Sandman" has been blaring over the speaker system.
Opposing hitters should not expect any reprieve this season either.
Again, when I looked to see if he experienced any wear and tear during the season, I found frustrating results. An ERA of 2.43 before the All-Star break. An ERA of 0.94 after the All-Star break.
0.94.
He tied for the American League Relief Man Award. That was his fifth award. Many players are lucky to have one or two. He had a 44-2 save to blown save ratio. This guy is about as constant as death and taxes.
Posada is the only one to have shown any chinks in the armor. Posada has only played in 162 games in the last two seasons. Before these last two seasons, he averaged nearly 500 at-bats a year.
While he may have played less in 2009, Posada still put up top-five catcher numbers. Sporting a .285 average and .386 on-base percentage, nearly half of Posada's hits went for extra bases.
In order for Posada to be at his best, less may be more.
The Yankees may use their backup catcher more than in recent seasons, but it will keep the switch hitter fresh in the second half of the season. Last year Posada saw nearly identical numbers before and after the All-Star break.
The Yankees certainly have other question marks. Can they adequately replace Johnny Damon and Hideki Matsui with Curtis Granderson and Nick Johnson? Is Phil Hughes ready to put it all together for a full season in the rotation? Is Javier Vazquez more ready for the pressures of the Big Apple the second time around?
I try to find my comfort in these questions. Maybe there are enough flaws elsewhere for my Rays to go toe-to-toe with the defending champs.
One thing I know for sure: I won't expect any comfort in the three ageless wonders.
Read more New York Yankees news on BleacherReport.com