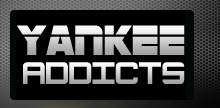 April 17, 2013 · Joe Giglio · Jump to comments
Article Source: Bleacher Report - New York Yankees
The one-year deal between Kevin Youkilis and the New York Yankees didn't just represent a stopgap at third base until Alex Rodriguez recovers from hip surgery, or a low-risk, high-reward move for a player coming off a career worst season.
It was the continuation of a long line of former Boston Red Sox stars who join the New York Yankees during the back end of their careers, much to immediate and harsh reaction from the Bronx fan base.
From Babe Ruth to Doug Mientkiewicz, with Boggs, Clemens and Damon sandwiched in, Boston players have jumped ship to New York countless times over the decades of the rivalry.
Yet negativity remains at first blush. Fans harbor dislike for uniforms, players donning them and never, ever forget a game-winning hit or season-saving catch against their team. Youkilis may have represented a smart, efficient move from a baseball and business standpoint, but he wasn't a Yankee player. He was everything Boston represented in the rivalry.
As the signing became official, so did the outcry from Yankee fans.
Some used logic: He's older, breaking down, and just another over-the-hill acquisition for Brian Cashman. Of course, none of that was easy to argue against. Coming into 2013, Youkilis turned 34 years old, hadn't played in more than 122 games since 2009 and saw his on-base percentage fall to a career low .336 in 2012. Additionally, he wasn't wanted in Boston just last summer, losing his position to free-swinging rookie Will Middlebrooks.
Of course, some used emotion to chide the signing: "He stinks! New York will never root for this guy! Fire Cashman!"
Those may not be direct quotes, but a corner of the Yankee fan base didn't disagree with those notions.
To the surprise of some, Youkilis is off to a torrid start this April. Acting as the primary third-place hitter for Joe Girardi's offense, Youk is posting a .348/.412/.565 line. Through 12 games, 23.5 percent of his batted balls are line drives, good for his highest mark since 2006. He's not only hitting the ball often, it's consistent, solid contact.
As Robinson Cano pointed out to the New York media following Tuesday evening's win over Arizona, Youkilis' skill set is a tremendous asset behind him in the lineup.
"That's what you want," said Cano, noted by Andy Martino of the NY Daily News. "Not only is he a guy that sees a lot of pitches, but a guy that can hit. You want a guy like him behind you."
As expected with any player helping a team win baseball games, the fan base took notice.
Of course, for Yankees fans, it's more than just statistics that matter. The way a player approaches the game, each at-bat and the emotions displayed play a large role in how they are perceived. That can be a positive or negative experience. Just ask Alex Rodriguez, who, despite two AL MVP awards in pinstripes, has never been inducted into "true" Yankee status.
On Friday against Baltimore, Youkilis' emotion after a base-running blunder brought back memories of the fiery Paul O'Neill taking his at-bats out on a water-cooler or bat rack in the New York dugout.
As time passes, whether Youkilis can keep up his hot start or not, Yankees fans should embrace their new third baseman more and more.
In reality, his approach at the plate, emotional demeanor, and ability make him the perfect antidote to those more than ready to move on from the Alex Rodriguez era. The front-office probably didn't pay too much attention to that in December, instead focusing on a player than could wear our opposing pitchers, bounce back from a down 2012, and provide production worthy of a $12 million pact.
Rarely are free-agent signings a win-win-win for player, organization and fanbase.
So far, Youkilis is justifying his contract and winning over fans by the game.
Are you a Kevin Youkilis fan? Comment below, follow me on Twitter or "Llke" my Facebook page to talk all things baseball!
Read more New York Yankees news on BleacherReport.com