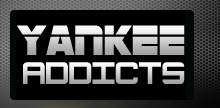 May 18, 2009 · Heartbeat Of The Bronx · Jump to comments
Article Source: Bleacher Report - New York Yankees
Amidst a sea of heroes and inspiration in the Bronx over the weekend, one quiet and unsung hero was left unnoticed.
Yankees pitcher Alfredo Aceves helped to stabilize a bullpen recently diagnosed as bipolar, ensuring that a tie score would carry over into the bottom half of the inning.
Without Aceves, New York likely would have stepped to the plate with its tail between its legs, having just allowed a horde of base runners to score.
Aceves pitched a scoreless and uneventful inning in consecutive games, lowering his ERA to 2.16. He has collected nine Ks while surrendering just two BBs and currently displays a 0.84 WHIP in 8.1 IP.
While Brett Gardner, Mark Teixeira, Melky Cabrera, Alex Rodriguez, and Johnny Damon were allocated the role of hero over the weekend, Aceves quietly earned back-to-back victories on Saturday and Sunday.
A.J. Burnett covered the faces of Cabrera, A-Rod, and Damon with a celebratory whipped cream pie, but it was Aceves who prevented New York from being left with the proverbial "pie in the face."
Aceves has been the model of consistency in his time with the Yankees, holding hitters to a .214 BAA in 38.1 innings pitched. His 1.09 WHIP and 2.35 ERA help to further uncover the secret of his covert successes.
Though he is a rather unassuming man, do not be fooled by his lack of unbridled emotion.
Aceves uses his calm focus as a weapon and is capable of handling pressure situations with poise. This is, of course, the most important section of the Yankees' prospective player application.
Most importantly, he has the ability to—you might want to sit down for this—immediately throw strikes out of the bullpen. This is a skill the rest of his mound mates seem to avoid purposely.
Manager Joe Girardi seems to have finally granted Aceves the respect and trust that he deserved all along and will look to place him into additional important situations down the road.
It is anyone's guess why pitchers like Jonathan Albaladejo, Anthony Claggett, David Robertson, and Steven Jackson received shots on the 25-man roster before Aceves, but it is safe to say that he is here to stay.
New York has been waiting for six weeks to find a reliever not named Mariano Rivera willing to step up in clutch pitching scenarios.
Aceves has finally thrown his hat into the ring and could provide a much-needed emotional respite for a fanbase steadily reaching for Xanax in the later innings.
Continue to underestimate and disregard the inconspicuous Aceves, as it will further feed his drive to succeed.
Don't let his name confuse or mislead you…Alfredo is out to prove that he is anything but "chicken."
Also Seen At: Heartbeat of the Bronx