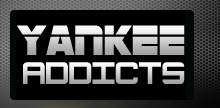 May 13, 2009 · Colin Linneweber · Jump to comments
Article Source: Bleacher Report - New York Yankees
It has been nearly two weeks since Sports Illustrated writer Selena Roberts released her unauthorized biography, A-Rod: The Many Lives of Alex Rodriguez, and the book is still at the center of controversy.
Roberts portrays the New York Yankees superstar as an insecure egomaniac that sources informed her began to use performance enhancing drugs as a teenager when he played shortstop at Miami's Westminster Christian High School.
Furthermore, and more damningly, Roberts' research uncovered grumblings from past teammates that Rodriguez, 33, indicated to opposing batters what pitches were going to be thrown in advance while he played for the Texas Rangers from 2001-2003.
"The pitch-tipping was often enough over three years to become a pattern noticeable by the ex-Rangers sources that I spoke to," said Roberts. "When games were already decided, they noticed this behavior with Alex where he would do very obvious signs, presumably to an opposing hitter who would be a middle infielder on an opposing team, where they believed he would tip the signs."
Roberts said A-Roid*, a three-time AL MVP and 12-time All-Star selection, tipped pending pitches because he expected that the favor would be returned to him when he needed a big hit.
"Alex would tip his middle infielder buddy on the other team and the player on the other team would in turn tip Alex," Roberts revealed of the phony who agreed to a 10-year, $275 million contract with the Yankees in 2007. "What it was was slump insurance. You could count on your buddy to help you break out of your slump, if you're 0 for 3 or you've had a bad week."
According to Roberts' informants, "If it was a changeup, he would twist his glove hand. To indicate a slider, he would sweep the dirt in front of him and he would bend in the direction of where the pitch was going to be, inside or out."
It is perplexing that the media as a whole has seemingly discounted the magnitude of the allegations levied against "bitch tits."
If accurate, tipping pitches to opposing players is a brazen and disgraceful competitive sin that devalues baseball and would demand that the perpetrator receive an indefinite banishment from the sport.
"In a lot of ways, it's worse than steroids and HGH," said R.A. Dickey, a former teammate of Rodriguez's in Arlington who currently pitches for the Minnesota Twins. "It's so much worse because you are harming someone else deliberately."
Dickey, 34, added with disgust, "It's mind-boggling."
Another past colleague of Rodriguez's in the Lone Star State, outfielder Doug Glanville, expressed anger and resentment at the very prospect of ever teaming with a traitor in the mold of Benedict Arnold.
"If you found out a teammate was giving a sign to another team that would be pretty ugly," acknowledged Glanville who played with A-Phony in 2003 and is now retired. "If it is true, it would be a serious offense in the culture. That would be the thing where I wonder if players would even want to play with him."
Glanville further cemented his stance on Rodriguez's purported wrongdoings and questioned what type of individual would hinder others strictly for his own benefits.
"There's no situation that would ever justify him doing that on any level. That's somebody's ERA, that's somebody's livelihood, that's somebody trying to provide for their family. No one with a conscience could do that. It blows me away."
Popular Yankees outfielder of yesteryear, Shane Spencer, didn't flinch when briefed on the newest charges against his onetime ally in Texas six years ago.
"It was brought up," Spencer, 37, conceded of rumors that A-Rod tipped pitches. "I overheard it in our clubhouse, but the team was really split up—a bunch of groups of threes and fours. It wasn't a real close clubhouse and guys start talking."
Boston Red Sox slugger David Ortiz, who inexplicably considers himself a friend of Alex Rodriguez, was dumbfounded at the recent news and he claimed he would physically attack one of his fellow teammates if such heinous acts were proven to be true.
"I would beat the crap out of him," Ortiz, 33, said. "I mean, seriously. You're my teammate. I mean, I don't care if that's your brother pitching out there. We're trying to win the game. That's not the right thing to do."
"The Cooler," who is the youngest player ever to hit 500 home runs and is widely considered one of the best players in history, has been the focus of a number of scandals since debuting with the Seattle Mariners in 1995.
Previously, Rodriguez's most egregious misstep was likely his blatant utilization of performance enhancing drugs.
Unfortunately, the phenomenal majority of baseball players used banned substances during the dreaded steroid era and it is unethical to distinguish Rodriguez in favor of other ballplayers simply because of his ample talents.
However, pitch-tipping is absolutely in a separate and more draconian sphere than needles and creams are.
Because virtually the entire sport of baseball was ravaged by the steroids epidemic, the playing field was essentially level during this rogue period. It is unrealistic to say that one player had an advantage over another player when a born pipsqueak like Brady Anderson looked like Lou Ferrigno in the 1990's.
On the contrary, pitch-tipping would create decided advantages for any and all parties involved in the conspiracy.
The grand bulk of human beings on this planet are incapable of connecting a bat with a ball thrown by a major league pitcher whether they know what to expect or not.
But, Major League Baseball players are not typical athletic specimens and these professionals can easily capitalize on such intentional forewarnings.
Pete Rose and the eight infamous Chicago Black Sox players tampered with the integrity of the game and they are all permanently barred from any connection to Major League Baseball.
"If he did do it, he's going to take it to his grave out of fear for his life," said Dickey. "I'll be watching to see what his own response will be to the allegations. I mean, what's next?"
Major League Baseball Commissioner Bud Selig's "next" move should be to launch a massive investigation into the allegations that Alex Rodriguez tipped pitches and made a sham of the sport that has paid him millions upon millions of dollars since he became a professional ballplayer.
"It's unforgiveable," Dickey added.
If fans of the sport of baseball are lucky, Selig will make No. 13 vanish and vanish forever.
If Selig doesn't, his lack of ruling actions would be "unforgiveable."
http://www.newyorkyankeesnews.com/colin815/weblog/7283/if-a-rod-tipped-pitches-he-should.html