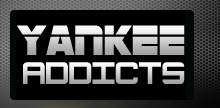 December 14, 2012 · Alan Horvath · Jump to comments
Article Source: Bleacher Report - New York Yankees
Future Hall-of-Famer Ichiro Suzuki has agreed to a two-year contract with the New York Yankees, according to Jon Heyman of CBS sports. After joining the Yankees in July last season, Ichiro hit .322 with five homers and stole 14 bases while compiling 227 at bats in just 67 games.
Ichio enters the 2013 season with a career batting average of .322 with a remarkable 2,606 hits in 12 seasons (an average of 221 hits per season). The length of the contract opens the door for Ichiro obtaining his 3,000th hit while wearing the Yankees' pinstripes. Ichiro played all three outfield positions in 2012.
It remains to be seen which direction the Yankees will take in addressing the replacement of right fielder Nick Swisher. That has been Ichiro's best position throughout his career, winning 10 Golden Gloves and being recognized for his superior throwing arm. Suzuki provides the Yankees with a true leadoff hitter, should they choose to use him in that capacity.
The signing gives the Yankees three left-handed hitting outfielders, in Suzuki, Curtis Granderson, and Brett Gardner. Gardner, 29, led the league in stolen bases with 49 during the 2011 season and will become eligible for arbitration in 2014. His primary position is left field. Center field belongs to Granderson, the Yankees biggest power threat, who has smashed 84 homers over the last two seasons with 225 RBI.
With the addition of Kevin Youkilis (aka "The Greek God of Walks"), the 2013 Yankees have a clubhouse as formidable in professionalism as they will on the playing field, along with respected leaders such as Derek Jeter, Mariano Rivera, Andy Pettitte, and now Suzuki. Youkilis will be filling in at third base until Alex Rodriguez's anticipated return in June.
By adding a right-handed power hitting outfielder, the Yankees appear primed for another World Series run in 2013. Free-agent Scott Hairston could fill that bill, hitting 20 home runs in 377 at bats last season. He played all three three outfield positions in 2012, and would provide the Yankees with both right-handed power and outfield depth.
The Yankees are already strong in the pitching department. Led by C.C Sabathia, Phil Hughes, Hiroki Kuroda, Ivan Nova, and Andy Pettitte—their rotation is rock solid. With the return of closer Rivera, so is the Yankees bullpen, with lights-out setup man David Robertson.
Look for another New York Yankees World Series championship next season. Thanks, in huge part, to the roles to be played by Suzuki and Youkilis.
Read more New York Yankees news on BleacherReport.com