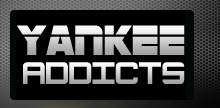 February 25, 2010 · Doug Rush · Jump to comments
Article Source: Bleacher Report - New York Yankees
Spring Training is finally getting under way for Major League Baseball.
And already, as the manager of the defending World Series Champions, Joe Girardi has a major decision to make.
Well, I guess you can call it a "major decision." Some might not see it as that.
But for the careers of Phil Hughes and Joba Chamberlain, it is a major decision.
That decision is who will win the fifth and final spot in the Yankees starting rotation and who goes to the bullpen as the setup man.
Many will tell you Hughes has the advantage because he's more built to be a starter rather than a reliever and is projected to have a future as a starter for the Yankees.
Many others might tell you Chamberlain has the advantage, spending most of the 2009 season as a starter, plus Joba will finally have the "Joba Rules" removed in 2010.
Hughes, 23, and Chamberlain, 24, are still in the development stages of their baseball careers, so whatever spot they pitch in next season might end up being where they pitch from for the rest of their careers.
Hughes came onto the scene in 2007 as the top pitching prospect for the Yankees, but was rattled by injuries in 2007 and 2008. In 2009, he ended up becoming Mariano Rivera's setup man in the bullpen because the Yankees needed arms, so Hughes got to stay in the majors instead of being sent back down to AAA.
Chamberlain also came onto the scene in 2007, but much later in the season and was an overpowering reliever when he got to the majors. But because he was still projected to be a starter, the Yankees decided to change him over to starting duty in the middle of 2008 and again in the 2009 season.
The only problem with Joba as a starter was his inconsistencies. At times, he looked like he could shut out teams for seven innings. Other times, he would get his pitch count up to 100 before the fifth inning and walk five batters, which would burn out the bullpen.
So if both were dominant relievers and only one can stay in the starting rotation, who is it going to be?
My guess is Hughes will win the fifth starter spot, and here's why. His pitching ability and delivery is designed to go multiple innings. He's also been stretched out further along and been in the process longer to be a future Yankees starter in the majors.
Hughes fastball averages around 95-96 mph regularly and then his curveball is a knee buckler to hitters. Even in the later innings, Hughes can still pump his fastball by hitters, and if he ever learns to throw a changeup to go with his fastball and curveball, similar to what his former teammate Ian Kennedy threw, Hughes could be an even deadlier pitcher
Chamberlain, however, because of his delivery and velocity, is a stronger, and at times, unhittable reliever. We all saw what he did in the 2007 season and playoffs, and again in the beginning of 2008. It took the midges of Cleveland to rattle young Joba, not the batters of the Indians in a ALDS game.
Joba's fastball averaged around 98 mph when he was a reliever, and then when you throw in his wicked slider, batters couldn't touch him and ended up whiffing.
Joba's fastball averaged somewhere between 90-93 mph when he was a starter, which wasn't fooling hitters, and then his slider and breaking pitches weren't being swung at, which led to high walk totals.
In the end, I think when the 2010 season starts, Hughes will be the everyday fifth starter and Joba will be Rivera's setup man and possibly even the future heir to be the closer when Rivera hangs it up.
Either way, Girardi has a tough decision to make come April.
Read more New York Yankees news on BleacherReport.com