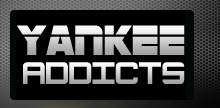 March 23, 2010 · Greg Fertel · Jump to comments
Article Source: Bleacher Report - New York Yankees
The Yankees placed Chad Gaudin on waivers today, and I'm not sure that was the right course of action.
After this move, it looks like the bullpen will shape up as follows:
Mariano Rivera
Joba Chamberlain/Phil Hughes
Alfredo Aceves
David Robertson
Damaso Marte
Chan Ho Park
Sergio Mitre
Chamberlain, Hughes, Aceves, and Robertson all have options remaining—and they could be sent down with no repercussions to start the season. The Yankees will probably place Boone Logan on waivers soon, too.
It's arguable whether Mitre or Gaudin is better suited for the 'pen—personally, I think Gaudin is. Either way, the bullpen shapes up to be pretty good, and it has a lot of depth.
However, the Yankees could have kept Mitre and Gaudin on the roster as the season starts. While I would certainly not advocate sending down any of the other bullpen members to keep one of these guys, there is another alternative.
Looking at the schedule, the Yankees don't need a fifth starter until April 24. Whether it is Hughes or Chamberlain who wins the starting role, that pitcher could have started the year in the minors, giving the Yankees more time to make a decision and see if things sort themselves out.
It would also give the fifth starter an opportunity to find more of a rhythm than he would find pitching as a long reliever during the first few weeks of the season.
If a Yankee pitcher happened to go down with an injury before the team needed a fifth starter, the team would be well prepared.
Either way, I don't think placing Gaudin on waivers is a good way for the Yankees to maximize their assets.
It has been debated that the loser of the fifth starter competition should start the season in Triple-A. I don't think that would be the ideal situation, but maybe sending down the winner of the competition would be the right move.
Now, it is certainly possible that Gaudin clears waivers and this is all moot. His salary isn't insignificant, and many teams are already at their budgets. But if I were the Yankees, I wouldn't risk losing a useful pitcher at this point.
Gaudin would also be a better option in the bullpen over Mitre because he has dominated righties during the course of his career with a good slider. He also has the ability to eat up innings.
Mitre, on the other hand, doesn't have any particular standout ability.
Read more New York Yankees news on BleacherReport.com