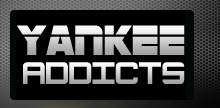 March 16, 2012 · Doug Rush · Jump to comments
Article Source: Bleacher Report - New York Yankees
Today was a monumental day for the New York Yankees.
Fans all over were in shock, but for good reason, as they found out one of their long-time fan favorites was coming back to the Bronx in 2012.
Jack Curry of the YES Network broke the news first on his Twitter account, announcing that Andy Pettitte had signed a one-year deal worth $2.5 million.
The Yankees have signed Andy Pettitte to a 1-year minor league deal worth $2.5 million. The team is thrilled to have 240-game winner back.

— Jack Curry (@JackCurryYES) March 16, 2012
The deal for Pettitte is a minor league deal with an invite to spring training, but because Pettitte has now decided to put off retirement, he'll be on the Major League roster when the 2012 season kicks off.
In his last active season, Pettitte went 11-3 with a 3.28 ERA in 21 starts for the Yankees in 2010.
After the season, Pettitte contemplated playing in 2011 and retirement, which didn't get decided until Feb. 3, 2011, where Pettitte announced he was retiring from the Yankees.
The Yankees invited Pettitte to spring training to be a special instructor, and it was there that he got the itch to play again and Yankees General Manager Brian Cashman worked out the deal, which apparently was a very secretive and ongoing process that was going on back in December.
Bringing back Pettitte was a great move for the Yankees, and it further enhances the team's chances of winning the World Series this season.
The rotation now consists of CC Sabathia, Ivan Nova, Hiroki Kuroda, Phil Hughes and now Pettitte.
There may be a good chance Michael Pineda could be starting out the 2012 season at Scranton/Wilkes-Barre after questions of his velocity have come up.
I also would not be surprised now if the Yankees start shopping around Freddy Garcia, who was going to battle Hughes for the fifth and final spot in the rotation, but now with Pettitte in the mix, the Yankees have a surplus of pitching and can afford to shop Garcia, who pitched very well in 2011.
Pettitte was always a gamer for the Yankees. He's a career 19-10 in the playoffs, with his 19 wins the most ever for a pitcher.
Money can't buy that type of experience and that type of leadership that Pettitte brings to the Yankees.
Sabathia is a playoff-proven pitcher (when healthy), and Nova got to cut his teeth last year by pitching in Games 1 and 5 of the ALDS against the Tigers.
Plus, Kuroda has playoff experience pitching with the Dodgers and is 2-1 in three starts.
Now, throw in Pettitte's experienced and that can be a solid rotation built for October.
Plus, if the Yankees want to continue to develop Pineda without a lot of pressure, they can now. There's no pressure on the 23-year-old to quickly become the No. 2 or 3 pitcher and dominate behind Sabathia.
In his response today to coming back, Pettitte gave his usual humble and honest answer, according to Mark Feinsand of the New York Daily News.
Pettitte: "I am embarrassed to be coming back, but what can I do? My desire has changed."

— Mark Feinsand (@BloggingBombers) March 16, 2012
Pettitte plays for the love of the game, and he wants to win another championship, and you can't fault the guy for it.
He was around the Yankees for the last couple of weeks and the passion and desire came back, something that will work to the Yankees advantage.
OK, yes, he's 39 going on 40 years old this year. However, he also had a full year of rest and will now use the rest of spring training to get ready and could be ready by Opening Day, but the team isn't sure, according to Joel Sherman of the New York Post.
He will use rest of spring to get in shape. #Yankees will get read when he will be ready, Opening Day is in play, but hardly sure

— Joel Sherman (@Joelsherman1) March 16, 2012
Adding Pettitte changes everything for the Yankees. Their rotation is deeper, stronger and more fierce. And adding Pettitte takes a team that won 97 games a year ago and only makes them better.
April 6 can't get here quick enough, but the addition of Pettitte sure makes the Yankees spring training a hell of a lot more interesting now.
Stay tuned, Yankees Universe.
Read more New York Yankees news on BleacherReport.com