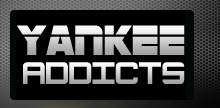 November 28, 2012 · Phil Watson · Jump to comments
Article Source: Bleacher Report - New York Yankees
With multiple sources reporting that the New York Yankees are in the final stages of working out a contract for 2013 with left-hander Andy Pettitte and that a Mariano Rivera signing is imminent, as well, the Yankees will have most of their pitching questions out of the way prior to next week's winter meetings in Nashville, Tenn.
New York already re-signed free agent Hiroki Kuroda to a one-year deal last week.
That just leaves everything else on the roster left to get settled before spring training.
With free-agent right fielder Nick Swisher as good as gone, New York will need to find a replacement. There had been reports Tuesday originating in Japan that Ichiro Suzuki had agreed to a one-year, $5 million contract to remain with the Yankees. But Craig Calcaterra of NBC Sports Hardball Talk website reported that no deal is in place, citing multiple sources.
Catcher is also a position of interest for the Yankees. Incumbent starter Russell Martin is a free agent and New York isn't the only team in the running for the former All-Star, according to this Bleacher Report piece.
The Yankees did sign a catcher this week. Eli Whiteside, claimed on waivers early this month from the San Francisco Giants, agreed to a one-year deal that will pay him $625,000 if he's on the big-league roster or $200,000 if he's playing in the minors. Whiteside spent most of 2012 at Triple-A Fresno and was just 1-for-11 in 12 games for the Giants.
Another outfielder reportedly in the mix is former Los Angeles Dodger Shane Victorino. According to Jon Heyman of CBSSports.com, the Yankees are one of at least seven teams to kick the tires on the soon-to-be-32-year-old.
According to Heyman, Victorino has also drawn interest from the Cincinnati Reds, Cleveland Indians, Texas Rangers, Tampa Bay Rays, Boston Red Sox and Giants. Several teams are reportedly willing to go to a three-year deal for Victorino, who said earlier this year he's interested in five years.
Five years isn't going to happen for Victorino, who hit just .245 with a .667 OPS—figures well below his career numbers—in 2012. Even three years might be too much for the Yankees because of their oft-cited payroll goal for 2014.
One thing Yankee fans should not expect to happen next week—or at any point in the offseason—is a lucrative extension for All-Star second baseman Robinson Cano.
Joel Sherman of the New York Post reported from the general managers' meetings in California earlier this month that Cano is not expected to be open to the idea of giving the Yankees any sort of loyalty discount.
Cano hired super agent Scott Boras and Sherman cited a "confidant of Cano" as saying that the second baseman believed he already took a discount once from New York and is unwilling to do it again.
Cano signed a contract prior to the 2008 season that turned out to be a six-year deal for $57 million once options were picked up. Cano is scheduled to earn $15 million in 2013 and will be a free agent after the season.
Boras told Sherman he had spoken to Yankees executive Randy Levine and general manager Brian Cashman about Cano. But he added that his belief was that Cano will play out the 2013 season before entertaining any serious negotiations.
The Yankees are being viewed as being reluctant to dive into the free-agent market because of the payroll target. Former Yankees pitcher and current YES Network analyst David Cone said, "Free agents need not apply here."
But Cashman said there are no hard-and-fast rules as the winter meetings approach.
"I never said we wouldn't do multi-year deals," Cashman told MLB.com. "I never said we can't. We're capable of a lot of different things, but we certainly have strong preferences. We will communicate those directly to the agents."
Read more New York Yankees news on BleacherReport.com