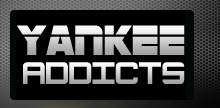 November 19, 2012 · Phil Watson · Jump to comments
Article Source: Bleacher Report - New York Yankees
Raul Ibanez wants to come back to the New York Yankees, according to Ken Davidoff of the New York Post.
Davidoff posted early Monday morning that Ibanez was convinced to watch the highlights from Game 3 of the American League Division Series.
That was the game in which Ibanez forced extra innings with a two-run homer in the bottom of the ninth, then won it with a leadoff homer in the bottom of the 12th.
Ibanez told the Post:
"I got goose bumps watching it because when you're playing and when you watch it happen, it's two completely different things. You realize what a neat thing it was to be a part of something like that, as a Yankee. Wearing the pinstripes while you're in the postseason and being a part of that. All of that stuff. It was really magical and a lot of fun."
Ibanez said he wants to keep playing and his first choice would be to stay in the Bronx.
In 2012, Ibanez made 65 starts in left field and 11 in right field as well as 23 starts as the Yankee designated hitter. His regular season batting numbers weren't great: A .240/.308/.453 triple slash while hitting 19 homers and driving in 62 runs in 425 plate appearances.
But he was good late in the season, with a .262/.338/.541 in September and October. He had four homers and 10 RBI in 61 plate appearances down the stretch.
He also got better when the chips were down. He hit .286/.367/.571 in the seventh inning or later in situations where the game was tied, the Yankees were ahead by a run or when the tying run was at least on deck.
Ibanez got a head start on the October heroics during the regular season. He hit a pinch-hit, two-run homer in the bottom of the ninth inning to tie the Yankees' Oct. 2 game with the Boston Red Sox, then drove in the game winner in the 12th with a single to left field.
That win helped the Yankees clinch at least a tie for the American League East crown; they clinched the following night when the Tampa Bay Rays beat the Baltimore Orioles in St. Petersburg, Fla.
Ibanez was 7-for-22 with three homers and five RBI in the postseason. He also provided one more dramatic moment with a game-tying, two-run homer off Detroit Tigers closer Jose Valverde in Game 1 of the American League Championship Series.
New York went on to lose that game in 12 innings en route to being swept out of the ALCS.
According to Davidoff, the Yankees are very interested in keeping Ibanez. They've asked him to be patient while they work out the situations with the starting pitching and with closer Mariano Rivera.
"I know they have certain needs that they need to go after first," Ibanez told the Post. "I'm open to anything. I'm looking forward to an opportunity to play in the Bronx again. That would be great."
Ibanez will turn 41 on June 2, so he doesn't have a lot of tread left on the tires. But based on his playoff performance alone, he's earned another year in pinstripes on a one-year deal. He signed last year for $1.1 million and it likely won't take much more than that to bring him back in 2013.
Ibanez has a career .278/.340/.470 triple-slash line with 271 home runs and 1,116 RBI.
He's not the 30-homer, 120-RBI guy he was with the Seattle Mariners in the middle of the last decade, but he's a professional hitter who would be an asset in 2013.
Read more New York Yankees news on BleacherReport.com