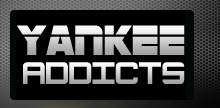 May 22, 2009 · gozer · Jump to comments
Article Source: Bleacher Report - New York Yankees
The Yankees are red hot, with a nine-game winning streak that included three walk-off wins in a row over the weekend. And they're having so much fun, that they'll be starring in a 1970s-like summer replacement series, The Yankees' Summertime Funtime Razzle Dazzle Variety Hour, which will co-star Charo. The Mets' season, on the other hand, is going right down the toilet. And speaking of toilets, here's a tip of the cap to the Mets fan of the week. This faithful Met follower got her arm stuck in a toilet at Citi Field trying to retrieve her gold tooth, which fell in the commode. The Mets finally have working toilets in their stadium, but the fans don't know how to use them. How did her tooth fall in there anyway? Maybe she caught a case of the yips from Mike Pelfrey. A plumber stated, "People have probably been getting their hands stuck in toilets as long as there have been toilets." If I had a gold tooth for every time I got my arm stuck in a toilet . . .
Winner
Mark Teixeira: Did it finally take Alex Rodriguez coming back to give the first baseman some protection in the lineup to get him going? Maybe, but whatever the case, Teixeira could do no wrong this week. He batted .461, with four long balls, 13 RBI's, scored seven runs and raised his average from .203 up to .250. And he's got his glove working over at first base.
Runners Up
Alex Rodriguez/Johnny Damon/Melky Cabrera: The weekend walk-off kings did something the Yankees haven't done since 1972, with those three consecutive last-inning wins. Back then the heroic names included Johnny Callison, Celerino Sanchez and Horace Clarke. Now those are true Yankees. I think I still have Sanchez's baseball card, which I've been saving until I need the money for my daughter's college tuition.
Alfredo Aceves: The Yanks' reliever picked up three wins this week in his four appearances. He tossed 7.1 scoreless innings, and now sports a 1.32 ERA and 0.95 WHIP in six games for the year.
David Wright: The Mets third baseman batted .579 in the six games since last Friday, with eight RBI's, eight walks, and is now up to .362 for the season. He also has a 12-game hitting streak going. He's doing his job; it's the rest of the Triple-A team that surrounds him that needs to pick up the slack.
Carlos Beltran: Will the other Met outfielders learn to stay out of his way? That's the only thing Daniel Murphy did right out there – get the hell out of Beltran's way. The center fielder hit .364 this week, with five doubles and four runs batted in. He's hitting at a .370 clip for the year. But Steve Phillips says to trade him, and we all know how great he is at putting together Met teams.
Schmuck of the Week
Ryan Church: Church had a lot of competition this week – Mike Pelfrey balked three times in one game, which is almost impossible to do, Murphy got picked off first base and dropped a fly ball within a span of about two minutes, and almost any other Met could be listed here, too. But Church beats them all out for missing third base. It was unbelievable, but then again, the Mets had an unbelievable week. They had just won 11 out 13 including the first three games of a tough road trip, but as soon as Pelfrey fell off the mound for his first balk of the game, the team completely fell apart.