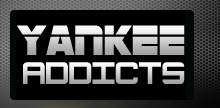 June 5, 2009 · gozer · Jump to comments
Article Source: Bleacher Report - New York Yankees
The Yankees' major league record of 18-straight errorless games came to an end this week.
They also lost a game started by Carl Pavano, whose record of four-straight years of stealing the Yankees' money came to a halt this year (I haven't seen somebody do less in that amount of time since the four years I spent in junior high school).
There was a revolving door on the local teams' pitching staffs the last few days. Chien-Ming Wang is back in the rotation (do they want a do-over on that decision?), with Phil Hughes heading out to the bullpen (he wasn't demoted, though, he was just "relocated").
J.J. Putz, on the other hand, was demoted to the seventh inning, but now may be out for the season. Who knew that the crown jewel of the Seattle trade would turn out to be Jeremy Reed? Bobby Parnell will work the eighth.
More roster moves were needed by the Mets, as the injuries continued to pile up at a comic rate (along with swine flu scares and food poisoning illnesses). It was Angel Pagan's and Ramon Martinez's turn to be put on the DL (another sliding injury for the Amazin's—surprise, surprise).
Luckily, Alex Cora is back, because who knows when we'll see Jose Reyes again? Emil Brown was called up from Buffalo. Waiting for his turn to return to the Mets when the next injury takes place: Chico Escuela.
Winner
Jorge Posada
The Yankees catcher returned to the lineup after a 22-game absence and made his presence felt. He led the Bombers to a 5-2 record this week, highlighted by the 12-3 win vs. Texas.
In that game, he blasted a three-run bomb and finished his first week back with three long balls, six RBI, and batted .347. Welcome back.
Runners Up
Derek Jeter
Let's here it for consistency. The Captain had two hits on Friday, two hits Saturday, two hits Sunday, two hits Monday, three hits Tuesday, and then was finally shutout on Wednesday (and had the day off yesterday).
Mark Teixeira
He didn't take kindly to being plunked twice by Vicente Padilla and broke up a double play soon after that with a good, hard, clean slide. That's the way to do it.
The Yankees' slick-fielding first baseman got the last laugh when Padilla was rumored to be waived by Texas.
Hal McRae practically killing Willie Randolph in the 1977 playoffs is still the best take-out slide ever, though.
Teixeira added to his week by hitting .347 with a homer and eight RBI.
Omir Santos/Melky Cabrera
The Mets' new starting catcher is staging a walk-off battle with the Yanks' outfielder.
Santos did it again on Friday night with an 11th-inning single, and he also drove in the only other run for the Mets that night with a home run.
Melky hit the game-winning homer yesterday to beat Texas (though it wasn't actually a walk-off, but it was close enough).
John Maine
He pitched six strong innings on Sunday, even though he had to hurl during the game. That takes guts.
Joba Chamberlain
Joba came up with the longest outing of his career on Monday, when he went eight innings and only allowed two runs on four hits with five K's and two walks.
He was throwing in the high 90's, and conveniently acted as his own setup man. He made a spectacular diving catch on a Kelly Shoppach bunt and turned it into a double play.
Schmuck of the Week
Mike Pelfrey
The Mets needed Pelfrey to come up big yesterday to avoid a sweep, and he had (in his own words) the worst start of his career.
It was the wrong day to give up nine runs (eight earned) to the Pirates (not that there's any good day to do that). They finally had Carlos Beltran back in the lineup, and even Cora's return was a sight for sore eyes, so yesterday was a must-win situation.
Pelfrey put a quick end to that idea.