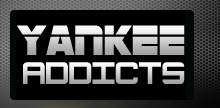 May 8, 2009 · gozer · Jump to comments
Article Source: Bleacher Report - New York Yankees
The Yankees and Mets played most of their games against division rivals this week, with the Mets (5-1) faring much better than their crosstown sibling (1-5). The big non-New York news was the suspension of Manny Ramirez.
Looks like the Mets made the right decision after all not to go after the drug cheat (it wasn't steroids-related—oh, ok, we believe you; it's just your run-of-the-mill female fertility drug that all 36-year-old men take).
It's just a case of Manny Being Barry. And now for the quote of the week from Giants running back Danny Ware, who doesn't want to be referred to as Wind in the Giants running back nickname of Earth, Wind and Fire, but instead Water: "H2O is one of the most important resources known to man.
I transform whenever my environment changes. When it's hot, I'm in my liquid form and can move through any boundary. When it's cold I freeze and turn to ice. And once I get rolling, nothing can stop me.
If it ever gets too hot, I evaporate, and it's like I'm running on the clouds. But I never disappear because when it rains, it pours! That's who I am. Water."
Ok, how about Earth, Fire and That Crazy Guy With The Insane Quotes for a new nickname? Is he from another planet? Did he spend the off-season taking a science class just to come up with that quote? Somewhere Jim Halpert is turning toward a camera and shrugging.
Winner
Frankie Rodriguez
The Mets new closer is earning his money and living up to his billing. He saved four games in a row and five overall this week, with three coming against the Phillies. He's now nine for nine in save opportunites, with a 1.32 ERA and 1.02 WHIP.
He even got Carlos Delgado off the hook in Atlanta by closing the door in the nick of time to prevent the first baseman from being run out of Queens.
Runners Up
Carlos Beltran
The red hot center fielder belted three home runs, knocked in six runs and batted .364 this week. He now leads the Mets in just about every offensive category—homers, RBI's, batting average and, of course, giant moles.
Johan Santana
The Mets ace did it again, pitching seven shutout innings against the Phillies, lowering his ERA to a league-best 0.91 and upping his record to 4-1. He leads the NL in strikeouts, with 54, and hasn't allowed more than two runs in his last 12 starts.
He was recently named the NL Pitcher of the Month for April. Santana is doing everything he can to help the Mets exorcise the demons of the Nolan Ryan trade (ok, that's a lost cause).
David Wright
All of a sudden, Wright is smoking hot. He and Beltran have a two-run-homer-in-the-same-inning thing going on. The third baseman hit two dingers and drove in seven runs this week, and hit at a .450 clip.
Johnny Damon
It wasn't a good week for the Yanks, but Damon hit .370, with three long balls and nine runs batted in, as he was one of the only bright spots for the Bombers.
Markus Naslund
The Rangers winger left a minimum of $2 million on the table (if he was bought out), or $3 million if he came back with the team, to retire. It helps the Rangers' salary cap situation, and was an unselfish and classy move. That doesn't happen very often these days.
Schmucks of the Week
Yankees Security
Thousands of Yankee fans were told there would be no chance the game would played on Monday night by Yankee security and other employees, and so they filed out of the Stadium. But lo and behold, the game was actually played with many of the faithful not being allowed back in.
The new Yankee Stadium isn't proving to be very fan-friendly. First the team's followers are charged thousands of dollars for a ticket, and now they won't even let them in the park. D'oh.