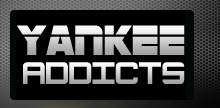 May 15, 2009 · gozer · Jump to comments
Article Source: Bleacher Report - New York Yankees
Is there anything more heartwarming than a cheating, lying, adulterous phony hitting a home run on the first pitch he faces after coming off the disabled list?
I couldn't stop crying when Alex Rodriguez smashed his storybook-like four-bagger against the Orioles on Friday night. The last time I wept like that was at the end of It's a Wonderful Life (or was it Planet of the Apes?).
Speaking of disgraced drug cheats, Roger Clemens came out of the woodwork this week and is still in complete denial about his steroid use. He also denied ever playing for the Blue Jays.
When presented with proof, he stated, "I don't think the Toronto Blue Jays even exist, so I couldn't have possibly played for them. Besides, I don't even know where Toronto is."
Winner
CC Sabathia
The Yankees' big-money ace is beginning to look like an ace. He tossed a complete-game shutout against Baltimore on Friday, and last night pitched eight innings only allowing two runs to earn his third win of the season and lowered his ERA to 3.70.
As Howlin' Wolf once sang: He's three hundred pounds of heavenly joy.
Runners Up
Carlos Beltran
The NL's second leading hitter batted .333 this week, with a homer and five runs batted in. He also swiped a couple of clutch, late-inning bases setting up two victories. He's now hitting .371 for the season.
Johnny Damon
Damon leads the Yankees in just about every offensive category except nose hairs (second only to Clue Haywood), and blasted a huge three-run homer to win the game in Baltimore on Sunday.
John Maine
Maine has been a big part in stabilizing the Mets rotation. He beat the Pirates on Saturday, only allowing one run, and should have gotten the victory last night, when he threw 6.2 innings while giving up two runs.
Brett Gardner
The young outfielder hit his first career home run on Tuesday and scored the tying run last night.
Schmucks of the Week
The Mets When Johan Santana Is Pitching
Ok, what's the story with this team every time their ace is on the mound?
Santana's already lost two games in which he didn't give up an earned run. After seven games, he has a 0.78 ERA, but is only 4-2. He should be 7-0.
Yeah, sometimes the offense is facing the opposition's ace, but that doesn't account for all the errors and unearned runs.
They better get it together before Santana secedes from the team and plays by himself. He's a better fielder than most of his teammates and he can hit a little, too. Maybe he wouldn't be so bad all on his own.