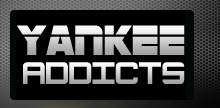 December 24, 2012 · Phil Watson · Jump to comments
Article Source: Bleacher Report - New York Yankees
The New York Yankees entered the offseason with more than half a roster—14 players—heading into free agency. With the calendar rapidly approaching the New Year, the Yankees have already brought back a handful of those free agents.
Outfielder Ichiro Suzuki signed a two-year deal last week. Starting pitchers Andy Pettitte and Hiroki Kuroda will also be back in 2013. Kuroda signed a one-year contract and Pettitte agreed to terms on a one-year pact in late November.
All-time saves leader Mariano Rivera decided he would attempt to come back from a serious knee injury, signing a one-year deal.
The only new face thus far is free-agent infielder Kevin Youkilis. The longtime Boston Red Sox standout finished the 2012 season with the Chicago White Sox and signed a one-year contract to be the stopgap third baseman in place of Alex Rodriguez—who is scheduled for hip surgery next month.
That leaves a pair of unanswered questions moving forward.
Who will do the catching?
The Yankees let catcher Russell Martin walk, never making an offer to the guy who was the regular catcher for the past two seasons.
Martin signed a two-year deal with the Pittsburgh Pirates, leaving three catchers currently on the 40-man roster.
Of those three, none has ever been a regular catcher at the major-league level. Chris Stewart is the most experienced, but is a lifetime .217/.281/.302 hitter. Francisco Cervelli spent most of last season in Triple-A after backing up Jorge Posada and Martin the previous two seasons. Austin Romine, 24, is the youngest of the bunch but is a year removed from back surgery which cost him most of the 2012 season.
Free-agent options are limited. The best free-agent catcher on the market, former Chicago White Sox standout A.J. Pierzynski, agreed to a one-year deal with the Texas Rangers last week. Former Ranger Mike Napoli agreed to a three-year contract with the Boston Red Sox (although the deal is not official yet), who also added former Atlanta Braves backup David Ross to a two-year pact.
Free agents still available include Kelly Shoppach, Yorvit Torrealba, Henry Blanco, Miguel Olivo, Chris Snyder and Rod Barajas. None of those catchers would be anything but a stopgap measure—all of them are older than 30.
The trade market is similarly uninspiring at this point. There was some thought that Atlanta's Brian McCann might be available, but the Braves picked up his option for 2013 and let Ross walk.
Given Boston's acquisitions of Napoli and Ross, it's possible that either Jarrod Saltalamacchia or Ryan Lavarnway could be had for the right price, but the Yankees are thin on major-league ready prospects.
Right-handed hitting outfielder please apply
Andruw Jones was the Yankees' spare right-handed hitting outfielder the last two seasons, but New York didn't extend the free agent a contract offer. Jones recently signed to play next season in Japan.
The Yankees have had discussions with free agent Scott Hairston, but the former New York Met reportedly wants a multi-year deal. Hairston is also reportedly drawing interest from the Braves and Philadelphia Phillies, and the Mets are also said to be interested in bringing him back.
Former Red Sox outfielder Cody Ross was thought to be a target of the Yankees as well, but he signed with the Arizona Diamondbacks for three years Saturday.
Other righty swingers still available in free agency include former Detroit Tiger Delmon Young (more of a designated hitter) and former Miami Marlin Austin Kearns.
Read more New York Yankees news on BleacherReport.com