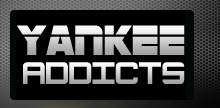 November 27, 2010 · Shane Chinni · Jump to comments
Article Source: Bleacher Report - New York Yankees
Black Friday has come and gone and the Yankees and Derek Jeter have yet to strike a deal. Everyone knows what has gone on thus far. The Yankees have offered a deal to make Jeter the highest paid middle infielder in the big leagues when he is not performing like one. Jeter wants the Yankees to give him an Alex Rodriguez type contract, with rumors floating around of six years at $22-25 million per.
As a lifelong Yankees fan these are the toughest negotiations we have ever had to face and I think I speak for most Yankees fans on this.
This is what he know so far: We all love Derek Jeter and he is the one guy that even Red Sox fans respect, so that says something right there. We all want Jeter to be a Yankee for the last three or four or five years of his career and then retire into a Reggie Jackson type role in the front office.
He is the captain who's led the team to five World Series rings and if he re-signs will become the first Yankee with 3,000 hits.
We also know he is coming off the worst season of his career, which is not the best move heading into free agency. Now Joe Girardi has said that it was partially his fault for playing him too much when A-Rod got hurt, but that is beside the point.
The Yankees want to pay Jeter a fair, above-market baseball contract at three years/$45 million when most executives around the league say he would be lucky to get $10 million a year anywhere else. Jeter wants the A-Rod type deal and, while the Yankees vastly overpaid A-Rod, the negotiations for his contract were different.
A-Rod was only 32 at the time, coming off a year when he hit 52 homers and a 156 RBI and won the MVP award as well. Plus the economy was not in its current state and other teams were considering serious offers for him also. Sure, the Yankees overpaid him greatly, but given the circumstances, oh well.
With the economy in the toilet and Jeter coming off a dreadful season, that type of contract doesn't make sense and really makes Jeter look somewhat greedy at a time when about 10 percent of Americans are unemployed.
It is also baffling that the Yankees are picking Jeter to be the line in the sand of unreasonable contracts—he is the face of the franchise and the city. I understand Jeter wanting more money when he is on a roster where A.J Burnett is in the middle of a five-year, $82 million deal after pitching like the fifth guy in a rotation last season.
This is what should and needs to happen: Jeter should pull a page out of Mike Mussina's playbook and volunteer to take less money than the $22 million he made last year.
Moose went to Cashman and said I will take less, but you have to pay me more than Carl Pavano, who was making $10 million. He ended up with a two-year, $22 million contract with a $1 million signing bonus. Jeter should ask to make more than A.J, who averages $16.4 million.
Cashman should say, "Absolutely, how about $17.5 million with a $1 million signing bonus for three years with an option for a fourth year?" Jeter takes a small pay cut (of only $400,000 off the average of his last contract) and the Yankees, who essentially print money, keep their superstar, fans and other players happy. They should also be thankful Joe Torre retired because Jeter would be playing in LA with him at this point.
It makes one wonder what would have happened if the Boss were still alive. Something tells me the negotiations would have been over for both Jeter and Rivera at this point.
Read more New York Yankees news on BleacherReport.com