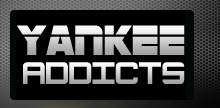 April 13, 2010 · Jesse Dorsey · Jump to comments
Article Source: Bleacher Report - New York Yankees
The Yankees had a special guest on hand for their ring ceremony Tuesday afternoon. It wasn't Yogi Berra, it wasn't Whitey Ford, and it wasn't George Steinbrenner—although they were all there.
Hideki Matsui was the true guest of honor in the house that the Core Four built.
Although Matsui wasn't with the likes of Derek Jeter, Jorge Posada, Mariano Rivera, or Andy Pettitte back when the group won their first four rings in the 90s, he still feels like a true Yankee who has been there forever.
The fact that he finally got his first ring in pinstripes after seven years of dedication to the team is magnificent—even more so because he was the MVP of the World Series, and no Yankee deserved it as much as Matsui.
He carried himself with poise and an attitude that I have never seen before in baseball.
He apologized to fans for breaking his wrist while playing, thus ending his 1,768 games played streak—518 of which were in America, something that is unheard of. He has been the epitome of dignity and composure.
Matsui is not an Anaheim Angel. He is not even a Yomiuri Giant. He is a lifetime Yankee after he has paid his dues in the Bronx, and the Yankees fans showed him how much they appreciated his seven year service with the team.
The roar that the crowd let out for Matsui was not topped by that of any other player. Pettitte's was trumpeting, Posada's was blaring, Rivera's was emphatic, and Jeter's was ear-splitting.
But the ovation that the bleacher creatures and the 50,000 Yankee faithful let out when Matsui was introduced last was nothing short of epic.
It didn't matter what happened today, nothing was going to stop this crowd from showing Godzilla what he truly meant to this team. Even if he would have hit five home runs and single-handedly won the game for the Angels today, the crowd would have chanted his name every time he trotted around the bases.
The Yankee fans have been described at times as brash, loud, and boisterous—a group that will let a player know exactly what they think of him.
Today was no different, they told Matsui with their ovation that no matter what team he ends up on, he is still a Yankee.
The Yankee fans would love to still have Matsui on the team, but they realize that baseball is a business and were able to separate business from baseball for at least a day to show that Matsui has a special place in their hearts, no matter what.
And with one great rush on Godzilla, the Yankees unleashed the second-best hug in the past week (Sorry Yanks, but I'm still pretty sure that Phil and Amy Mickelson's hug on the 18th Sunday is the best hug in sports history…it is definitely Top 10) upon the best Japanese-born player in Yankee history.
Read more New York Yankees news on BleacherReport.com