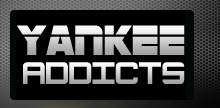 March 12, 2010 · Greg Fertel · Jump to comments
Article Source: Bleacher Report - New York Yankees
Hector Noesi was signed by the Yankees out of the Dominican Republic in 2005 and debuted in the Gulf Coast League at 19-years-old in 2006. He promptly missed most the 2007 season after undergoing Tommy John Surgery.
Noesi is a guy who, due to his age and injuries, managed to stay away from the prospect radar before the 2009 season.
Looking at his 50 or so innings in 2008, it wouldn't have been far-fetched to predict greater success for Noesi in 2009. He was absolutely dominant in 2008, striking out over ten batters per nine innings while walking less than two.
Noesi has had an interesting and slow-moving path thus far through the Yankees system, largely because of his injuries, that is interesting. He was largely a reliever when pitching for the GCL Yankees in 2008. When I see a 21-year-old pitching in relief in the Gulf Coast League, that is usually not a good sign.
Then, when the Yankees promoted him to Staten Island at the end of the season, they used him as a starter. He only made five starts, but he excelled. He struck out 11.6 batters per nine innings while posting a BB/9 of just 2.60.
Pitching in Staten Island presented more of a challenge for Noesi, as there are many college graduates in that league who were a similar age to Noesi. Even though it was just five starts, I'd imagine that Noesi opened a few eyes in the Yankees organization with that eye-popping K/9.
Even as Noesi dominated during the 2009 season, there was little buzz surrounding him. Seeing great numbers are nice, but they don't mean too much in the low minors without an accompanying positive scouting report.
I wasn't hearing bad things about Noesi suggesting that he was getting by on poise rather than stuff, I just wasn't really hearing much at all about the then 22-year-old righty.
It wasn't until the end of the season that I, and others, started to take note of what Noesi was accomplishing. Right around the time I noticed the absurd numbers Noesi was putting up, others noticed how his stuff had improved.
Noesi's biggest fan seems to be Frankie Piliere, former Rangers' scout and current writer for AOL Fanhouse. He had great things to say about Noesi in a brief scouting report:
"[Hector] Noesi is the type of prospect that shows up in deals quite frequently. He's a little older than you'd like for a pitcher below Double-A, but has the stuff of a No. 3 big-league starter. Another reason you may not know much about Noesi is because in 2008 he was much shorter in his arsenal than he is today.

When I had the chance to see him then, he was pitcher severely lacking in secondary pitches despite his good velocity and fastball command. This year was a much different story. He displayed downright dominance at times, especially in his stint with at low Single-A Charleston (S.C.). Maybe most impressive of all was his stamina; his stuff would sometimes improve as his pitch count mounted.

Although he still likes to mostly to work off his well spotted 90-94 mph fastball, this year there was the curve ball as well. With good 12-6 action, the curve ball came out whenever Noesi seemed to need it this year. He had a feel for just how much to mix it in and varied the speeds from 72-76 mph. With a second pitch that now shows flashes of being plus, and an occasional changeup mixed in, Noesi showed tremendous growth in 2009 and became a complete pitcher. He could be a guy that continues to emerge in a hurry and may not be far off from the big leagues."
For a player who had never received much scouting hype, that is some very high praise. His statistical trends match up with Piliere's observation that his stuff had drastically improved.
As Sean recently noted, Noesi also possessed one of the best SIERAs in the Yankees' farm system. It was already evident that Noesi's Tampa ERA of 3.92 was a fluke, considering that he had a freakin' K:BB of 10.00(!) but his 2.64 Tamps SIERA further confirms that.
Noesi has gotten into a few televised games during spring training, but I haven't gotten to see much of him. I saw him face a few batters but I wasn't paying full attention so I can barely even give you my own irrelevant personal scouting report.
The few pitches I saw represented such a small sample, but I did not ice a few things. It seemed Noesi possessed full control of his curve ball and had no problem working with it in the strike zone for strikes. His fastball was around 91 on the YES gun and he had a high leg kick when he was working from the windup. That's all I was able to gather in the few pitches I saw, so hopefully I'll get to see him pitch again.
During the offseason, the Yankees opted to add Noesi to the 40-man roster even though he has yet to pitch above A-ball. This shows that the Yankees like what they've seen from him and couldn't risk losing the control specialist. I was relieved to see him protected from the Rule 5, because I think there's some legitimate upside with Noesi.
Noesi will start 2010 on the 40-man roster making his first stop at Double-A Trenton. I don't think it will be too much of a challenge for him, and given that he'll be 23-years-old for the entire season, a quick promotion to Triple-A Scranton/Wilkes-Barre would not surprise me at all.
The combination of Noesi's improved stuff and impressive performance make him one of the better pitching prospects in the Yankees' system. Keep an eye out for him, as we may see Noesi pitching in the Bronx this September.
Find more prospect profiles and other great content at Pending Pinstripes .
Read more New York Yankees news on BleacherReport.com