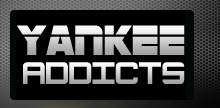 June 21, 2009 · SportsLifer · Jump to comments
Article Source: Bleacher Report - New York Yankees
The first college football game ever televised, Waynesburg vs. Fordham in 1939
On a steamy August Saturday afternoon in the summer of 1938, New York right-hander Monte Pearson pitched the first no-hitter in Yankee Stadium history. The Yanks beat the Cleveland Indians, 13-0, that afternoon to complete a doubleheader sweep.
Pearson, shown below, who was 16-7 that year and won exactly 100 games lifetime, faced the minimum 27 batters, striking out seven. Tommy Henrich and Joe Gordon each homered twice.
In the opener that day, Joe DiMaggio's third straight triple of the game plated two runs in the bottom of the ninth to cap a three-run rally and give the Yankees an 8-7 victory. A crowd of 40,959 was on hand as the Yankees increased their American League lead
to 12 games en route to their third straight championship.
One year late come September, Fordham University defeated Waynesburg College of Pennsylvania, 34-7, at Randalls Island in New York. But that wasn't the story. One NBC filmed the first college football game ever televised, as Bill Stern brought the play-by-play to viewers.
Waynesburg's Bobby Brooks made history with a 63-yard touchdown run, the first televised TD. Reportedly, there was no victory dance in the end zone.
The W2XBS broadcast signal had about a 50-mile radius, and there were about a thousand TV sets in the New York metropolitan area at the time. The signal didn't even reach Waynesburg, about 50 miles south of Pittsburgh. So who saw the game? Who knows?
Columbia shocks Army
In October of 1947, Army was a huge favorite as the Cadets brought a 32-game winning streak into New York to face Columbia's Lions. Army had not lost since 1943; Columbia was coming off losses to Yale and Penn.
Army led, 20-7, at the half, but the Columbia combination of quarterback Gene Rossides and receiver Bill Swiacki brought the Lions back for a stunning 21-20 victory.
And in September of 1961, Roger Maris, below right, of the Yankees hit a long home run into the upper deck at the old Yankee Stadium against Baltimore's Jack Fisher. The round-tripper was Roger's 60th of the season, equalling the mark Babe Ruth set in 1927.
Maris hit number 61 on the final day of the season, setting a record that many feel still stands.
These events, interesting in and of themselves, have something else in common. My father was right there for each and every one. He was just 13-years-old at the Pearson no-hitter, with other family members. The decision was made to leave once the Indians got their first hit. That never happened.
My Dad went to the Waynesburg-Fordham game with his cousin, who was at that time the manager of a powerful Fordham team. By the time Maris tied the Babe in 1961, my Dad was a father of four, two boys and two girls, including me, the oldest. Of course, my Mom had something to do with that.
My Dad took me to my first Yankee game more than 50 years ago. He also brought me to my first Giants game, also at Yankee Stadium, and to my first Knicks and Rangers games at the old Madison Square Garden.
He's always been there for me, whether it be coin, advice, or a good meal. There's still nothing I'd rather do than talk sports with my old man. I treasure the times I spend with him always.
Happy Father's Day. Love you, Dad.
Related Links