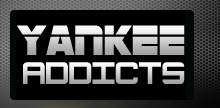 November 29, 2012 · Phil Watson · Jump to comments
Article Source: Bleacher Report - New York Yankees
Bernie Williams was a centerpiece of the New York Yankees' championship teams of the late 20th century.
He was a five-time All-Star, he won four Gold Gloves and ended his 16-year career (1991-2006) with 2,336 hits, 287 home runs, 1,257 RBI and 1,366 runs. His triple-slash line was a solid .297/.381/.477 while his .858 career OPS ranks among the top 150 of all-time.
He won the American League batting title in 1998 with a .339 average.
In postseason play, Williams ranks among the all-time leaders with 121 games played (third), 83 runs (second), 128 hits (second), 29 doubles (second), 22 home runs (second to Manny Ramirez's 29). Williams has still driven in more runs than any player in postseason history with 80—Ramirez is next on the list with 78. Among active players, Derek Jeter leads with 61 (fourth all-time).
This will be his second time appearing on the Baseball Writers Association of America's Hall of Fame ballot, according to MLB.com. Last year—his first year of eligibility—he appeared on only 55 ballots. That 9.6 percent showing was light years short of the 75 percent needed for induction. It was enough, however, to clear the five-percent barrier needed to at least remain on the ballot.
He last saw game action in 2009 when he played for Puerto Rico in the World Baseball Classic.
Williams has moved on to a successful career as a musician and will be among the artists performing Thursday night aboard "The Majesty" for a concert to benefit victims of Hurricane Sandy, according to his official website.
Williams was a terrific baseball player and certainly is an icon of the Yankee franchise, joining the likes of standout center fielders such as Earle Combs, Joe DiMaggio and Mickey Mantle.
But he's not a Hall of Famer. Baseball-Reference.com has several statistical measures to determine a player's Hall of Fame likelihood and Williams falls short in three of the four categories.
Williams registers just four on the site's Black-Ink Test that measures how often a player led the league in various statistics. That 1998 batting title is Williams' lone entry in this category. An average Hall of Famer, according to the site, scores approximately 27 points.
The Gray-Ink Test is similar to the Black-Ink Test, but measures the times a player was in the top 10 in several categories. While an average Hall of Famer scores roughly 144 points, Williams has only 61.
The Hall of Fame Career Standards test attempts to assess the worthiness of a player for enshrinement. A score of 50 is considered an average Hall of Famer. Williams come in just less than that with 48.
The only of the site's four measures that looks solid for Williams is the Hall of Fame Monitor. A likely Hall of Famer scores 100 on this scale while a score of 130 or more is considered a virtual lock. Williams has 134 points here, but it is the only one of the four measures in which he scores well enough.
Sabermetrician Jay Jaffe created what he calls the JAWS, or the Jaffe WAR Score system. JAWS attempts to measure a player's Hall worthiness through comparisons with other players already enshrined.
It averages a player's career WAR (wins above replacement) and their seven-year peak WAR. Williams grades out with a 40.8 JAWS score based on his career WAR of 45.9 and a seven-year peak of 35.7.
The average of the 18 center fielders already in Cooperstown is 54.8, based on a career average WAR of 67.1 and a seven-year peak of 42.5.
Bernie Williams should be remembered fondly by Yankee fans as a key performer on four championship teams. But a Hall of Famer? That's a bit of a stretch.
Read more New York Yankees news on BleacherReport.com