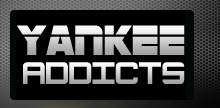 November 3, 2010 · NY Sports Digest · Jump to comments
Article Source: Bleacher Report - New York Yankees
At the end of the day, it's a business. That's the line always thrown out during any player's contract negotiations, especially when the player is a fan favorite and a longtime resident. That said, if there was ever a guy bigger than the business, Derek Jeter would be it.
However, during an interview with Michael Kay on 1050 ESPN, Hal Steinbrenner gave the impression that there would be no special treatment for the Yankee Legend:
"There's always the possibility that things could get messy," Steinbrenner said. "We absolutely want him back. We absolutely want [Mariano Rivera] back. They're career Yankees. But having said that, we're running a business here. So if there's a deal to be done, it's going to be a deal that both sides are happy with."
Hopefully, people won't blow this out of proportion (which may be a little hypocritical of us, considering the headline). This just seems like basic negotiating tactics. If you want to get heated because you think Jeter deserves better than media-posturing, that's fair, but please don't take this to mean Jeter will be snagging grounders somewhere else next season.
The two sides will come to an agreement, and a deal will eventually happen. Derek Jeter will be the Yankees starting shortstop in 2011, and his Hall of Fame bust will have nothing but "Yankees" written from 1996 to the year he ends up leaving the game for good.
So stop with the posturing and the radio shows and the silly comments, and just get this deal done already.
This article originally appeared on The NY Sports Digest. If it's offbeat and it's about the Mets, Yankees, Knicks, Giants, Jets, Islanders or Rangers, then The Digest is the spot to get it. Stop with the mega-sites and get a feel for the true pulse of New York at www.NYSportsDigest.com
Read more New York Yankees news on BleacherReport.com