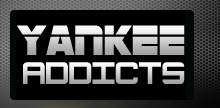 April 24, 2009 · Heartbeat Of The Bronx · Jump to comments
Article Source: Bleacher Report - New York Yankees
The game of baseball's biggest and most passionate rivalry is once again unleashed on America tonight in Fenway Park.
In fact, the bad blood has already begun to boil over before the series' first pitch, as David Ortiz has warned Joba Chamberlain to steer clear of his patented "chin music."
It should be an entertaining and spirited clash, with an A.J. Burnett vs. Josh Beckett matchup representing baseball's "must see" of the weekend.
The Yankees enter Fenway Park with a clear disadvantage offensively, however, which may prove to be the difference in the three-game series. With the absence of Alex Rodriguez and Xavier Nady, New York does not possess a right-handed power bat.
Lacking power from the right side is normally a moot point in baseball, as the majority of the game's pitchers are right-handed as well. Many teams choose to stack their lineups with left-handed hitters as a result.
The Philadelphia Phillies are a perfect example of this, as they won the World Series with just two power hitters from the right side (Pat Burrell and Jayson Werth). They then let Burrell walk in free agency, and replaced him with another lefty in Raul Ibanez.
One of the strong exceptions to the rule is Fenway Park, the Red Sox proud and historic home for 97 years.
Due to its peculiar architecture and presence of the short "Green Monster" in left field, Fenway Park has favored righties since the massive wall was constructed in 1936. So much so in fact, the Yankees and Red Sox once considered exchanging Joe DiMaggio and Ted Williams in order to take advantage of each park's dimensions.
The current Yankee roster consists of only three right-handed hitters. After quickly disregarding Jose Molina and Cody Ransom as threats, we are left with only Derek Jeter.
Though Jeter is a solid offensive player and thorn in the Red Sox side, he has never been known to drive the ball to left field. His inside-out swing has instead produced countless home runs and doubles to the power alley in right-center field. During his last three years at Fenway, Jeter has hit just .286.
New York does employ a bevy of switch-hitters, including Mark Teixeira, Jorge Posada, Nick Swisher, and Melky Cabrera.
Boston's only lefty starter is Jon Lester, whose hard cutter should somewhat neutralize their ability to lift balls with authority. They will be forced to hit lefty for the remainder of the series, aside from late-inning matchup situations.
The Red Sox, on the other hand, have assembled a roster to harness its stadium's home-field advantage. They have littered the heart of the lineup with talented right-handers such as Mike Lowell, Kevin Youkilis, Jason Bay, and reigning MVP Dustin Pedroia.
The strategy has already paid huge dividends for the Red Sox in 2009, as these hitters have played pepper with the Green Monster every chance they get. While Bay has struggled at Fenway thus far, the other sluggers have relished their home games:
Lowell:
Home – .367
Away – .250
Youkilis:
Home – .560
Away – .375
Pedroia:
Home – .361
Away – .185
The Yankees will need to rely heavily on their pitching staff in order to have a chance to win the rivalry's opening series in 2009. If it becomes an offensive "pissing contest," New York will not be able to compete without A-Rod and Nady in the lineup.
Expect some fireworks tonight as Joba is unlikely to back down as a result of Ortiz's caveat. In the event of a benches-clearing brawl, the Yankees better restrain Posada before his surgically repaired shoulder is compromised.
Friendships created during the World Baseball Classic are now jettisoned to the trash can…it is time for contention to again takeover.