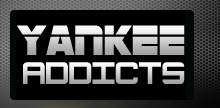 December 26, 2009 · Andrew Winn · Jump to comments
Article Source: Bleacher Report - New York Yankees
The Yankees have sure made a splash this offseason, but not by buying every player on the market. Unlike the big spending spree last year, the Yankees did not sign the best pitcher on the market, Lackey, and are unlikely to sign Holliday or Bay.
Brian Cashman has made himself known through trades with exception of Nick Johnson. They have acquired Curtis Granderson, Javier Vazquez, and Boone Logan while losing Melky Cabrera, Phil Coke, Mike Dunne, Arodys Vizcaino, Ian Kennedy, and coveted prospect Austin Jackson.
In addition, they lost Hideki Matsui, Chien-Ming Wang, Xavier Nady, and possibly Johnny Damon to free agency.
The Yankees, however, were successful in re-signing starting pitcher Andy Pettitte. This was a necessary and expected move. Realistically, where else would he pitch at 37?
The Nick Johnson signing took me by surprise a little bit. Perhaps not the greatest acquisition this year. He does not seem like a suitable replacement for Matsui, because he does not have as good numbers and he is even more injury prone. If you were going to replace the World Series MVP, at least get someone good, let alone someone who can play most of the season.
Johnson hit .291 with 8 home runs and 62 RBI in 133 games this season. Matsui hit .274 with 28 home runs and 90 RBI in 142 games. Johnson maybe not a suitable replacement. And what was the contract difference? Johnson will receive $5.5 million and Matsui will receive $6.5 million. Couldn't we have just re-signed our World Series MVP?
I would give the Yankees a B- or C+. If he can play most of the season then my grade will go up, but until then, maybe not the greatest move.
Now on to the Granderson Trade. It was a three way trade, but in short, the Yankees received Curtis Granderson for Ian Kennedy, Austin Jackson, and Phil coke. I like the trade, although I was sad to see A-Jax go.
Phil Coke was great for the Yankees throughout their championship run. Ian Kennedy started his career well, but never really bounced back.
Austin Jackson was a great prospect. He was comparable to Torii Hunter with less power. He was a great .300 hitter and is expected to hit 25-30 homers a year in the big leagues.
The reason the Yankees did this trade was because they needed a starting center fielder now. They let go of Jackson because while he was ranked the sixth best prospect in the International league in triple A, he would probably be as good as Granderson is now. With the Yankees coming of a championship run, this upgrade helps them.
Granderson, 28, hit .249 with 30 homers and 71 RBI. Where he will hit in the lineup, I'm not sure. He could possibly hit second behind Jeter. My reasoning is that he definitely has power. His average was lower than what I would have liked it to be, but it will go up now that he hits 81 games in Yankee Stadium.
He has speed which is great for the Yanks. He had 20 stolen bases and eight triples. He also has great defense and a big arm. His arm is the replacement for recently traded Melky Cabrera.
My grade for the Yankees is an A-. They did very well, and they got a great center fielder now as opposed to the future.
Now we move on to the Javier Vazquez trade. The Yanks received Javier Vazquez and Boone Logan for Melky Cabrera, Mike Dunne, and Arodys Vizcaino. Javier Vazquez is coming off one of his greatest years. His numbers will definitely go up as he now is pitching inf the batter friendly American League and in a hitters park.
He went 15-10 with a 2.87 ERA, 6th in the National League, and 238 strikeouts, second in the National League. He is a consistent Starter that the Yankees desperately needed.
He will likely pitch third or fourth in the rotation behind CC Sabathia, A.J. Burnett, and possibly Andy Pettitte. This is his second stint with the Yanks as he was in New York in 2004 before being traded for Randy Johnson. We all know how he worked out.
In return, the Yankees gave up their third best prospect in Arodys Vizcaino. He is expected to be an ace someday, but he is only 19 and it would take a couple years before he reached the big leagues. Do I need to stress the win-now again? The Yankees have a great team and they should try to win it now as opposed to in the future.
They also gave up Mike Dunne, a former outfielder converted pitcher, who was pretty solid. He definitely wasn't the main package for the deal, more like a filler player, but he was consistent in his stay with the yanks and will likely do more with the Braves, and be solid in the bullpen.
A big part of the trade was outfielder Melky Cabrera. Melky will be missed by New York as he became part of the heart and soul of the Yankees. With all of the Got Melk? signs, how could we not miss him? He has a great arm and was a decent hitter as well.
He is only 25 and he hit .274 with 13 home runs and 68 RBI. He never complained about his spot in the lineup or even being replaced in centerfield. He let his play do the talking and won back the job from Brett Gardner. His numbers are likely to improve and he will be a great player for the Atlanta Braves organization.
I give this trade a B+ or an A- for the Yankees. They already had Granderson, so Melky wouldn't start, and they got a Starter who could eat innings and pitch well.
However, the Yankees may have lost Johnny Damon and Xavier Nady. Nady barely played last year because he needed surgery. His return to the Yanks is unlikely as Swisher is likely to be the starting right fielder next season.
If Johnny Damon chooses to sign elsewhere, the Yankees always have Brett Gardner. However, if that doesn't work out, they have been targeting outfielder Reed Johnson in free agency. Cashman has said that he does not wish to make another big splash this offseason, but can still sign a solid left fielder who can hit around .275 and provide between 15-25 home runs.
Overall the Yankees have done well. Their overall grade so far: B+. Way to go Yanks!
Read more New York Yankees news on BleacherReport.com