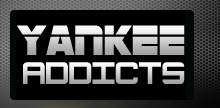 June 18, 2009 · Dave Nichols · Jump to comments
Article Source: Bleacher Report - New York Yankees
"I guess it started right on time for me."–Craig Stammen, June 18, 2009.
THE RESULT
After a five and a half hour rain delay, the Nats and Yankees finally were able to tee it up, something that most of the field at the U.S. Open at Bethpage State Park about an hour away were not able to do.
The rain cancelled most of the golf tournament, as Tiger Woods only got four holes in before the weather became too ugly. But you can play baseball at night, so the teams, who reported at 9:00 a.m. for the 1:05 p.m. start, waited. And waited.
And waited.
Finally, at 6:31 they took the field.
When they did, the Washington Nationals rode a couple of early runs and excellent pitching by Craig Stammen and four relievers to shut out the New York Yankees, 3-0, before a rain-diminished crowd at new Yankee Stadium.
It's the first time the Yankees have been shut out at their new baseball palace.
Stammen followed in his buddy John Lannan's footsteps from last night, giving up just six hits and no walks in six and one-third innings. It was Stammen's first major league win in his sixth start, earning the traditional shaving cream pie, delivered by staff "ace" Lannan, during the post-game interview.
Stammen was followed by Ron Villone, Julian Tavarez, Joe Beimel and Mike MacDougal, who earned his second save in as many nights.
Ryan Zimmerman, Adam Dunn and Wil Nieves drove in the Nats three runs. Zimmerman shook out of his slump with three hits in five at bats.
THE TAKEAWAY
The Nats are on a winning streak! For the first time since May 5-6, the Nats took consecutive games from their opponent, and took the series from the Yankees, who, no doubt, will be
excoriated
in the press for losing a series,
at home
, to the "lowly" Washington Nationals.
How sweet it is. This was a big series for the Nationals and embattled manager Manny Acta. Hopefully the team can use this as a springboard. They got good pitching, timely hitting, and for a change, excellent defense, led by Anderson Hernandez and Willie Harris, who made an awesome leap/diving catch of an Alex Rodriguez liner in left.
THE GOOD
How about the defense? Harris' catch, Austin Kearns nailed Nick Swisher trying to stretch a single into a double, Hernandez made several nice plays at second, and even Cristian Guzman made a nice sliding stab to his left with a little flip to get the lead runner at second and end a seventh inning potential rally.
THE BAD
Corey Patterson. He went 0-for-4 with two strikeouts. He's now 1-for-9 since his recall with six strikeouts.
THE UGLY
The weather. Man, what a lousy day in the Bronx. The five hour, 26 minute delay is thought to be the fourth longest rain delay since MLB started recording such things. A group of Nationals suite holders, on a trip sponsored by the organization, had to leave before the game even started due to their travel schedules.
NEXT GAME
Friday starts a home series with the struggling Toronto Blue Jays at Nationals Park. Jordan Zimmermann (2-3, 5.37) faces Brian Tallet (4-4, 4.57) at 7:05 p.m.