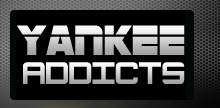 June 18, 2009 · Dave Nichols · Jump to comments
Article Source: Bleacher Report - New York Yankees
"I forgot how happy I could be after a baseball game."
—
Adam Dunn, June 17, 2009.
THE RESULT
: In front of his family and 46,000 chanting Yankees fans, John Lannan pushed aside childhood memories of his favorite team growing up and dominated the Bronx Bombers for eight innings.
After surrendering a solo home run and single in the bottom of the ninth, Lannan yielded to Mike MacDougal, who induced a red-hot Robinson Cano into a 6-4-3 double-play to seal Lannan's fourth victory of the season, giving the Washington Nationals a 3-2 win over the New York Yankees.
Lannan was superb, giving up just two solo home runs to the short porch in right field, one to Cano early in the game, and to Johnny Damon in the ninth. New Yankee Stadium is giving up 3.06 home runs per game, far and away the easiest park to hit home runs in this season.
Other than the homers, Lannan allowed just two other base hits, and walked just one, in eight and one-third innings. He struck out four, and got 15 ground ball outs, compared to just six fly outs. Lannan threw 71 of his 108 pitches for strikes, and pounded his sinking fastball on 80 of the 108 pitches.
The Nats got all the offense they needed tonight from a solo home run by Adam Dunn (18) and a two-run triple by Nick Johnson, all off Yankee starter Chien-Ming Wang (L, 0-5, 12.65). Cristian Guzman went 3-for-5 and was on base for Johnson's triple.
MacDougal walked the first batter he faced, and he and catcher Josh bard allowed Brett Gardner to steal second and third in the tenuous ninth inning, but got the ground ball double play when it mattered. It was his first save since 2006.
THE TAKEAWAY: Lannan is now 4-5 with a 3.38 ERA for the season. Take away his first two starts, and his ERA is a sparkling 2.59. He's given up just 22 earned runs in his last 76.1 innings pitched.
"He threw the ball in and out, mixed his pitches up, threw strikes," Yankees slugger Alex Rodriguez said.
THE GOOD: John Lannan. He's giving this team dependable innings every time out.
THE BAD: Ryan Zimmerman. The Z-Man is stuck in a rut, and last night's 0-for-4 with two Ks and three left on base won't help.
THE UGLY: Zimmerman. Since his average peaked at .364 on May 16, he's hitting .216/.336/.330 with just three home runs. It's the Nats' dirty little secret right now that Zimmerman's been stuck in a month-long funk.
NEXT GAME: Scheduled for today at 1:05 pm, but there's no realistic way today's game starts on time, or if they are even going to be able to get it in. Rain and thunderstorms are predicted all day in Gotham, and there's a very good chance DC gets out of NY with a series split. Craig Stammen (0-2, 5.86) was scheduled to face Joba Chamberlain (3-1, 3.84).