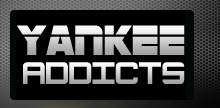 April 24, 2013 · Joe Giglio · Jump to comments
Article Source: Bleacher Report - New York Yankees
Due to injuries and free-agent defections to the everyday lineup, the New York Yankees are heading into the 2013 season with the strength of the team residing in their pitching staff.
While the offense has been a pleasant surprise, thanks to high-level contributions from Travis Hafner, Vernon Wells and Francisco Cervelli, the Yankees will need to lean on pitching to guide them through the rigors of a 162-game season.
Despite scoring 93 runs in 19 games, the numbers can be misleading. Outside of a few high-impact run scoring games in Cleveland, the Bombers' attack has been mediocre. Heading into play on Thursday, they have scored four or less runs in 13 of 19 games.
Again, pitching remains the key.
Of course, there are issues there, too.
CC Sabathia, after offseason elbow surgery, is experiencing a world without mid-90s velocity. Hiroki Kuroda nearly missed a start after a comebacker struck his pitching hand. Andy Pettitte had a start pushed back due to back spasms. Phil Hughes still gives up home runs in bunches. Ivan Nova remains the most confident man in the room, despite results that beg to differ.
Yet the outlook remains promising for this bunch, as well as a possible major reinforcement coming this summer.
Here's a look at why you should be buying into the Yankee rotation moving forward.
CC Sabathia
Over the course of his 13-year major league career, Sabathia has posted a 4.06 ERA in the first month of the season. In addition, his highest month-by-month WHIP and worst SO/BB ratio both occur in April. In other words, he's a notoriously slow starter, elbow concerns or not.
That's why Sabathia's early season velocity shouldn't be the the story as much as his relative success thus far. With a 3.34 ERA, 8.23 K/9 and 3.67 xFIP, the 32-year-old lefty is actually outperforming his normal production from his typical early season.
Factoring in the elbow surgery and velocity issues, it's more logical to be thrilled with the production this month. It's likely that Sabathia will only get stronger and better throughout the season.
If he doesn't, at least he's proving to be successful with a slower heater.
Hiroki Kuroda
One of these years, Kuroda is going to hit a wall.
Just don't count on it being 2013.
Since coming over from Japan as a 33-year-old in 2008, Kuroda has posted the following year-by-year earned run averages in the big leagues: 3.73, 3.76, 3.39, 3.07, 3.32.
The last figure, of course, came after a move to New York and the American League last season. 37-year-old starters aren't supposed to switch leagues, pitch more innings and effectively become the most reliable pitcher on division winners.
Yet Kuroda did just that for the Yankees.
After signing a one-year deal to return for 2013, he's picking up where he left off. With a 2.35 ERA and 3.37 xFIP thus far, Kuroda has been good in reality as well as in theory.
Early on, Kuroda's xFIP is better than the likes of Cliff Lee, Gio Gonzalez, Matt Moore, Chris Sale and Matt Cain. Much of that can be contributed to a K/9 rate (7.43) that is the highest of his career and a ground ball rate (60.6) that is remarkable.
If Kuroda can continue to strikeout more than seven batters per nine innings and generate high volume ground balls, his quest to defy attrition in America will continue for another year.
Andy Pettitte
We're years away from the inevitable "Is Andy Pettitte a Hall of Famer?'' conversation to play out from water coolers to MLB Network.
But the 40-year-old lefty is making the narrative more interesting each year.
Amazingly, despite his age rising and cutter velocity dropping, Pettitte has achieved better results on the mound since 2008. His ERA has literally dropped in every season since his 36th birthday: 4.54, 4.16, 3.28, 2.87 and now 2.01 early on in 2013.
Last year Pettitte posted the second highest strikeout rate (8.2) of his entire career, despite coming off an entire year of retirement. As he ages, Pettitte's acumen and knowledge of pitching grows to the point where it surpasses the losses in velocity and stuff he endures.
While innings and health remain a concern—Pettitte hasn't topped the 200-inning plateau since 2008—there's a very good chance of high-level performance every time he takes the mound.
Phil Hughes
When it comes to their 27-year-old, homegrown right-handed pitcher, a future issue could turn out to be a current blessing for the New York front office.
Hughes is a free agent for the first time after this season. Considering the expectations he held when coming up through the system, some may view the first chapters of his career as a major disappointment.
Yet none of that matters now.
If Hughes pitches the way he did on Wednesday night, stifling the Rays and dueling David Price, inning-by-inning, he will be paid handsomely.
Two comparable pitches, Anibal Sanchez and Edwin Jackson, put together the following seasons, respectively, before heading into free agency last winter:
Sanchez: 31 GS, 195.2 IP, 3.86 ERA, 7.7 K/9
Jackson: 31 GS, 189.2 IP, 4.03 ERA, 8.0 K/9
Hughes, coming off a season in which he posted 191 innings and 7.8 K/9, is more than capable of topping that and entering free agency positioned like Sanchez and Jackson.
Ivan Nova
What Nova lacks in command, he makes up in confidence.
Numbers aside, Nova is still missing bats at a rate that should lead to success. Over his last 31 starts, dating back to the beginning of last season, the 26-year-old righty has struck out 8.2 batters per nine innings.
Yet he sports a 5.11 ERA over that span.
To put that into perspective, Nova is one of 32 pitchers with a K/9 of 8.2 or better since the start of last season. Only Tim Lincecum, who seems to have found himself early in 2013, and Edinson Volquez have posted worse ERA+ marks among the group.
The stuff is there. Results shouldn't be far behind.
Michael Pineda
As Joel Sherman of the New York Post pointed out on Thursday, Michael Pineda once brought about the kind of hype and promise to the Pacific Northwest that Matt Harvey currently brings to New York.
"Actually, through 17 starts, Pineda was even closer to Harvey (2.58 ERA, .564 OPS against, 8.8 strikeouts per nine). He made the All-Star team—just as Harvey looks headed to doing, maybe even getting the start at Citi Field—and struck out two of the three men he faced."
With Pineda rehabbing from shoulder surgery and projected for a mid-summer return, Yankee fans should be optimistic while remaining realistic. The big righty will need time to reclaim his old form and look like a future top-of-the-rotation arm.
But he could represent a big acquisition replacement for an injury or take Ivan Nova's spot in the rotation if the results fail to match the numbers.
How will the Yankees rotation perform this season?
Comment below, follow me on Twitter or "Like" my Facebook page to talk all things baseball!
Read more New York Yankees news on BleacherReport.com