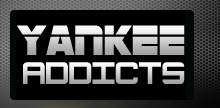 September 21, 2016 · Rob Goldberg · Jump to comments
Article Source: Bleacher Report - New York Yankees
New York Yankees catcher Gary Sanchez is having a better start to his career than anyone in baseball history.
The rookie hit his 18th home run of the season Wednesday night against the Tampa Bay Rays, making him the fastest to reach that mark in the modern era, according to Andrew Marchand of ESPN.com. It took the 23-year-old phenom just 45 games.
Sanchez amazingly followed the second-inning home run with another long ball later in the game, making him the fastest to 19 home runs as well.
According to MLB, the next-fastest player to reach that milestone was Wally Berger, who needed 51 games to do so in 1930.
The catcher went 0-for-2 in two games at the major league level last season and then 0-for-4 in one appearance in May this year. However, he has been unstoppable since rejoining the roster, producing at an extremely high level over his last 42 games.
In addition to the home runs, Sanchez finished Wednesday's contest with a .337 batting average and .410 on-base percentage.
Teammate Brian McCann had high praise for the rookie, per Bryan Hoch of MLB.com:
Seth Rothman of the YES Network considers him a top contender for Rookie of the Year despite his short time in the majors:
Manager Joe Girardi believes he deserves the award, per Erik Boland of Newsday:
Prior to joining the big league club on a full-time basis, Sanchez hit only 10 home runs in 71 games in Triple-A this year and didn't reach 19 home runs in any minor league season.
However, he has found magic in the Bronx.
Read more New York Yankees news on BleacherReport.com