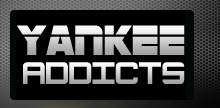 April 10, 2010 · Peter Douglas · Jump to comments
Article Source: Bleacher Report - New York Yankees
After seven and two-thirds innings of no-hit ball Saturday afternoon in Tampa Bay, C.C. Sabathia was within striking distance of his first career no-hitter.
Just four outs to go.
His team enduring an 8-0 thumping from the visiting New York Yankees, Tampa Bay Rays catcher Kelly Shoppach arrived in the batter's box with one desire—to break up the no-hitter.
Traded from the Boston Red Sox to the Cleveland Indians in 2006 as part of a deal that sent Coco Crisp to Fenway, Shoppach perhaps channeled some of that old Fenway spirit when he stepped to the plate.
After watching Willy Aybar ground out and Pat Burrell flight out, Shoppach stepped up with a chance to break up the impeding historical moment.
In the third inning, after watching Pat Burrell pop out to first baseman Mark Teixeira, Shoppach had grounded out to the third baseman, Alex Rodriguez.
Leading off the sixth, Shoppach had flied out to left fielder Brett Gardner.
Third time's the charm.
With one strike on him in the eighth inning, Shoppach again sent one toward the speedy Gardner, but this time it dropped in for a single.
Although Shoppach now plays for the upstart rival Tampa Bay Rays, the Red Sox Nation surely rejoices in his triumph.
As the Arabic—or Chinese—proverb says, "The enemy of my enemy is my friend."
Read more New York Yankees news on BleacherReport.com