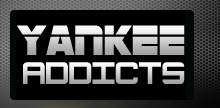 February 25, 2012 · Christopher Woodley · Jump to comments
Article Source: Bleacher Report - New York Yankees
Ruth, Gehrig, Mantle and Jeter are some of the greatest names in New York Yankees' history. However, Beniquez, James and Moses are the names of some of the forgotten Yankees. This series will focus on the less remembered players to wear pinstripes over the last four decades (1970s-2000s). Today's letter of the day is "C."
Ron Coomer (2002)
Infielder Ron Coomer spent a season in New York after signing as a free agent on Jan. 28, 2002. He had previously played for Minnesota (1995-2000) and the Cubs (2001).
In Coomer's only season, he batted .264 with 3 home runs, and 17 RBI. He started 45 games that season, including 26 at third base. In his first Yankees game against Tampa Bay on April 6, Coomer homered in his first at-bat off of Devil Rays starter Wilson Alvarez. Later in the season, he recorded a pair of three-hit games against Oakland (4/30) and Boston (5/26).
Coomer became a free agent after the season and was signed by the Dodgers on Jan. 30, 2003.
Greg Cadaret (1989-1992)
I'll cheat a little on this one. Even though pitcher Greg Cadaret was traded to New York midway through the 1989 season, the majority of his time in the Bronx came in the 1990s.
As Oakland was en route to their second consecutive A.L. pennant in 1989, the Athletics reacquired outfielder Rickey Henderson from the Yankees for Cadaret, pitcher Eric Plunk and outfielder Luis Polonia on June 21.
Cadaret appeared in 188 games, including 35 starts, in his four seasons in New York and was 22-23 with seven saves. His best season was in 1991 when he finished 8-6 with a 3.62 ERA and 105 strikeouts.
One of his best performances with the Yankees was 7.2 innings of scoreless relief on only three hits and five strikeouts in a 6-5, 11-inning win, over Toronto on Aug. 20, 1990. He also struck out a career-high nine over eight innings in a 12-6 victory against Detroit on Aug. 11, 1991.
After the 1992 season, Cincinnati signed Cadaret. He later played for Kansas City, Toronto, Detroit, Anaheim and Texas before retiring after the 1998 season.
Bert Campaneris (1983)
On Sept. 8, 1965, he played all nine positions in a game for the Kansas City Athletics. He was later the catalyst for the Oakland offense during their championship run from 1972 to 1974. But infielder Bert Campaneris closed out his 19-year career in 1983 with the Yankees.
After playing in the Mexican League in 1982, Campaneris arrived in the Bronx for Billy Martin's Yankees. Even though he only totaled 143 at bats, Campaneris batted a career high .322 to go along with 11 RBI. In his second game with the Yankees on May 6, Campaneris went 4-for-5 in an 8-4 win at Minnesota. He also recorded a three-hit game in an 8-6 win over Texas on July 17.
Campaneris, a six-time All-Star, retired after the 1983 season. He compiled a career .259 batting average with 2,249 hits, 313 doubles, 86 triples and 649 stolen bases.
Danny Cater (1970-71)
Danny Cater not only made contributions to the Yankees on the field, but he was also involved in one of the most lopsided trades of the decade.
On Dec. 5, 1969, Cater and Ossie Chavarria were traded from Oakland to New York for pitcher Al Downing and catcher/outfielder Frank Fernandez. Cater batted .301 with six home runs, and 76 RBI for a Yankees' squad that finished second in the A.L. East in 1970. His numbers dropped in 1971, but Cater still batted a respectable .276 with four home runs and 50 RBI.
Cater's best game with the Yankees was a five-hit performance with three RBI in a 14-10, 11-inning win at Boston. He also finished with three four-hit games in 1971.
On March 22, 1972, Cater and a player to be named later were traded to Boston for pitcher Sparky Lyle. Cater only totaled 46 RBI over his final three seasons (two with Boston; one with St. Louis). Meanwhile, Lyle went 57-40 with 141 saves.
Read more New York Yankees news on BleacherReport.com