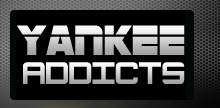 February 24, 2012 · Christopher Woodley · Jump to comments
Article Source: Bleacher Report - New York Yankees
Ruth, Gehrig, Mantle and Jeter are some of the greatest names in New York Yankees history. However, Armstrong, James and Moses are the names of some of the forgotten Yankees. This series will focus on the less remembered players to wear pinstripes over the last four decades (1970s-2000s). Today's letter of the day is "B."
Armando Benitez (2003)
Armando Benitez has pitched for eight major league teams. While he is most remembered for his stints as closer for Baltimore and the New York Mets in the late 1990s and early 2000s, Benitez had a short stint with the Yankees in 2003.
Benitez started the 2003 season with the Mets and tallied 21 saves with a 3.10 ERA. As New York was headed for a last-place finish in the N.L. East, the Mets were actively shopping Benitez to a contender. On July 16, Benitez was traded 10 miles to the north to the Yankees for Ryan Bicondoa, Jason Anderson and Anderson Garcia.
Benitez's tenure with the Yankees only lasted three weeks. In nine appearances, he was 1-1 with a 1.93 ERA, 10 strikeouts and six walks. But on Aug. 6, New York traded Benitez to Seattle in order to re-acquire relief pitcher Jeff Nelson.
After finishing the season with Seattle, Benitez signed as a free agent with Florida and saved a career-high 47 games in 2004.
Brian Boehringer (1995-1997)
Brian Boehringer was drafted by the Chicago White Sox in 1991 but would not make his major league debut with the Yankees until 1995.
Boehringer struggled in his first season. In seven relief appearances, he was 0-3 with a 13.75 ERA, 22 walks and 10 strikeouts.
Boehringer's numbers improved in 1996 with a 2-4 mark and a 5.44 ERA. In the World Series against Atlanta, Boehringer allowed five runs, including two home runs, in a Game 1 loss. However, he rebounded with two scoreless innings of relief in Game 4 as the Yankees overcame a 6-0 deficit to win, 8-6, in 10 innings.
Boehringer had his best season in New York in 1997 with a 3-2 record and a 2.63 ERA. After the season, he was left unprotected in the 1997 expansion draft and selected by Tampa Bay.
Boehringer was later signed as a free agent by the Yankees in December 2000, but was traded to San Francisco on July 4, 2001. He also signed with New York as a free agent on July 1, 2005, but did not pitch and was released at the end of the month.
Tom Brookens (1989)
Infielder Tom Brookens played the first 10 years of his career with Detroit and helped lead the Tigers to a World Series championship in 1984. Looking to add depth to their infield, New York traded pitcher Charles Hudson to the Tigers for Brookens on March 23, 1989.
As a reserve infielder, Brookens appeared in 66 games and batted only .226 with four home runs and 14 RBI. His best stretch of the season was from June 22-27, when he batted .538 (7-13) with three RBI against the White Sox, Kansas City, and Detroit.
After the season, Brookens was released by the Yankees and signed by Cleveland, where he played his final season in 1990.
Juan Beniquez (1979)
Juan Beniquez enjoyed a 17-year career as an outfielder for eight American League teams. He spent one season with the Yankees in 1979.
Beniquez was involved in a big trade with Texas on Nov. 10, 1978. The Yankees acquired Beniquez, pitcher Dave Righetti and three other players while the Rangers received pitcher Sparky Lyle, catcher Mike Heath, three other players, and cash.
Appearing in 62 games, Beniquez batted .254 with four home runs and 17 RBI. His best game of the season was in a 12-8, 11-inning win at California when he was 3-for-6 with a home run and two RBI.
After only one season in The Bronx, Beniquez was traded to Seattle along with pitchers Rick Anderson, Jim Beattie, and catcher Jerry Narron for outfielder Ruppert Jones and pitcher Jim Lewis.
Read more New York Yankees news on BleacherReport.com