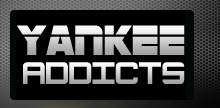 March 7, 2012 · Christopher Woodley · Jump to comments
Article Source: Bleacher Report - New York Yankees
Babe Ruth, Lou Gehrig, Mickey Mantle and Derek Jeter are some of the greatest names in New York Yankees history. However, Walt Terrell, José Cruz and Mike Fischlin are the names of some Yankees that shouldn't be forgotten.
This series will focus on the less-remembered players to wear pinstripes over the last four decades (1970s-2000s).
Today's letter is "M."
Doug Mienkiewicz (2007)
First baseman Doug Mienkiewicz made the final putout to complete Boston's comeback over New York in the 2004 ALCS. In 2007, Mienkiewicz was in pinstripes.
After one season in Kansas City, Mienkiewicz signed as a free agent with New York in January 2007, as Jason Giambi's backup. He appeared in 72 games and batted .277 with five home runs and 24 RBI.
Mienkiewicz struggled early and was only hitting .217 after the first two months of the season.
Then, on June 2, during an 11-6 loss at Boston, Mienkiewicz collided with Mike Lowell at first base. He suffered a concussion and fractured a bone in his right wrist. Mienkiewicz was placed on the disabled list and did not return until Sept. 4.
Upon his return, Mienkiewicz's offensive numbers gradually improved. He recorded at least one hit in 10 of his final 12 games, including a 4-for-5 performance in a 12-4 win at Tampa Bay on Sept. 26. Mienkiewicz also drove in four in a 12-0 victory over Baltimore on Sept. 18.
In the ALDS against Cleveland, Mienkiewicz started three games, but was hitless in six at bats, with one walk.
After one season in the Bronx, Mienkiewicz signed a free agent contract with Pittsburgh in February 2008.
Terry Mulholland (1994)
It appeared to be a good trade for the Yankees.
On Feb. 9, 1994, pitcher Terry Mulholland and a player to be named later (Jeff Patterson) were traded from Philadelphia to New York for infielder Kevin Jordan and pitchers Ryan Karp and Bobby Munoz.
Mulholland won 41 games over the previous three seasons and helped lead the Phillies to the 1993 NL pennant. He was also a durable pitcher with at least 190 innings pitched from 1991 to 1993.
But Mulholland's first American League season with New York was a disaster. He allowed at least five runs in five of his first six starts.
It appeared Mulholland turned things around after limiting Toronto to one run on five hits in a complete game victory on May 24. However, in his next start against Kansas City, Mulholland allowed seven runs and 10 hits over seven innings in a 10-6 loss.
Following the All-Star break, Mulholland was sent to the bullpen after allowing seven runs over four innings in a start against California on July 10. He allowed two runs in 5.2 relief innings before the strike prematurely ended the season.
Mulholland finished the season 6-7 with a career-high 6.49 ERA. He eventually signed a free agent contract with San Francisco, the team that drafted him in 1984, in April 1995.
John Mayberry (1982)
First baseman John Mayberry was a two-time All-Star with Kansas City in the 1970s. He looked to add veteran leadership when he joined the Yankees during the 1982 season.
On May 5, 1982, Mayberry was traded from Toronto to New York for Jeff Reynolds, third baseman Tom Dodd and first baseman Dave Revering. Mayberry was hitting .273 (9-33) with two home runs and three RBI in 17 games for the Blue Jays.
As the Yankees struggled to a fifth place finish in 1982, so did Mayberry. He only collected two hits in his first 19 at-bats in pinstripes. Afterwards, Mayberry did have a 3-for-4 game with two RBI in a 4-2 win over Minnesota on May 23.
Unfortunately for Mayberry, it would be one of his few productive games for the Yankees.
His batting average dipped as low as .190 in early July.
Mayberry drove in three runs in an 8-5 win over Texas on Aug. 8, but he finished .209 with eight home runs and 27 RBI in 69 games with the Yankees.
Mayberry was released by New York on March 24, 1983 and retired shortly thereafter. His son, John Jr., is currently an outfielder with the Phillies.
Carlos May (1976-1977)
Outfielder/first baseman Carlos May was acquired during the 1976 season to help New York reach the postseason for the first time since 1964.
On May 18, May was traded from the Chicago White Sox to the Yankees for pitcher Ken Brett and outfielder Rich Coggins.
May was only hitting .175 when he was traded; however, he paid immediate dividends with six hits in his first four games in pinstripes. Over his first six games in August, May hit .476 (10-21) with a pair of three-hit games in wins over Milwaukee and Minnesota.
A three-hit game later in the month against the Twins raised his average to a season-high .272.
May finished the season batting .278, with three home runs and 40 RBI with New York. He was 2-for-11 in the ALCS against Kansas City, and in the four-game World Series loss to Cincinnati, May played in each game, but was hitless at nine at bats.
May was inconsistent during the 1977 season.
From late April to mid May, he recorded at least one hit in eight of nine games, including a 3-for-4 in a win at California on May 13. However, from July 3 to Sept. 10, May batted .119 (5-42) in 18 games.
On Sept. 16, May was purchased by California. With the Yankees in 1977, May batted .227 with two home runs and 16 RBI.
Read more New York Yankees news on BleacherReport.com