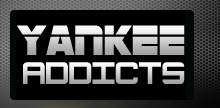 March 2, 2012 · Christopher Woodley · Jump to comments
Article Source: Bleacher Report - New York Yankees
Ruth, Gehrig, Mantle and Jeter are some of the greatest names in New York Yankees history. However, Lawton, Office and Sakata are the names of some of the forgotten Yankees.
This series will focus on the less-remembered players to wear pinstripes over the last four decades (1970s-2000s).
Since there are only four Yankees in history with their last name beginning with "I," today's letters of the day are "I and J."
Felix Jose (2000)
When outfielder Felix Jose stepped onto the Yankee Stadium turf on April 29, 2000, it was his first major league game since May 12, 1995 with Kansas City.
From 1996 to 1998, Jose played in the minor leagues and Mexico. In 1999, he began the first of three stints with the Lotte Giants in South Korea.
Jose signed with the Yankees on April 2nd, 2000 and spent most of the season with AAA Columbus. He was two-for-two in his first Yankees game against Toronto but sent back to AAA afterwards.
Jose returned to the parent club three more times. He hit his only Yankees home run and added two RBI in a 22-1 rout at Boston on June 19th. The 11-1 win over Tampa Bay on July 21st turned out to be the last of his 20 Yankees games. Jose batted .241 for the season with a home run and five RBI.
The former All-Star with St. Louis played for Arizona and returned to Mexico and South Korea from 2001 to 2007.
Pete Incaviglia (1997)
In 1986, outfielder Pete Incaviglia became the 15th major leaguer since 1965 to go straight from the draft to the majors. By the time he joined the Yankees in 1997, he had played for six major league teams and was in Japan for one season.
Eleven days after being released by Baltimore, New York signed Incaviglia to a minor league contract. He was assigned to AAA Columbus, which was his first time in the minors.
After three games with Columbus, Incaviglia was called up to a Yankees squad ravaged with injuries. He made a big impression with his new teammates with three hits in his first game, an 8-3 win over Minnesota. However, he only tallied one hit in his next 12 at bats.
When Tim Raines came off the disabled list, Incaviglia was designated for assignment on Aug. 12. He was released by the Yankees three days later.
Incaviglia played for Detroit and Houston in his final major league season in 1998.
Ruppert Jones (1980)
When New York traded center fielder Mickey Rivers in August of 1979, they needed to find his replacement for 1980. The Yankees looked at the Pacific Northwest for their newest outfielder.
New York acquired center fielder Ruppert Jones and pitcher Jim Lewis from Seattle for pitchers Rick Anderson and Jim Beattie, outfielder Juan Beniquez and catcher Jerry Narron.
In his final season in Seattle, Jones played all 162 games while batting .267 with 21 home runs, 78 RBI and 33 stolen bases.
Unfortunately, injuries in 1980 caused all of Jones' offensive numbers to drop. He was out of action from May 27th to July 9th. Another injury contributed to Jones playing his last game of the season on Aug. 25th and missing the ALCS.
Jones finished the season batting .223 with nine home runs, 42 RBI and 18 stolen bases in 83 games.
His most memorable game was on Aug. 12 against the White Sox. Tied 4-4 in the bottom of the 10th, Jones batted with the bases loaded and one out. Facing White Sox reliever Ed Farmer, he hit a walk-off grand slam for the 8-4 Yankees win. Ironically, Jones also hit an extra-inning, walk-off grand slam with California in 1985.
During spring training in March of 1981, Jones, outfielder Joe Lefebvre and pitchers Tim Lollar and Chris Welsh were traded from New York to San Diego for outfielder Jerry Mumphrey and pitcher John Pacella.
Jones was an All-Star with the Padres in 1982 and helped lead Detroit to a World Series title in 1984.
Grant Jackson (1976)
The June 15, 1976 trade between Baltimore and New York turned out to be a great trade in the long run for the Orioles. Catcher Rick Dempsey and pitchers Tippy Martinez and Scott McGregor helped lead Baltimore to a pair of A.L. pennants and a world championship from 1979 to 1983.
Pitcher Grant Jackson, who was one of five players the Yankees acquired, paid immediate dividends in 1976.
Prior to the trade, Jackson was 1-1 with one save and a 5.12 ERA in 11 appearances with Baltimore. He became one of the Yankees' top relievers after the trade.
In his first appearance, Jackson earned the win after three innings of one-hit relief in a 3-2, 14 inning win against the White Sox. One of his most impressive relief appearances was six innings of two-hit ball to earn the win in a 4-3 victory over Mark Fidrych and Detroit, 4-3.
Jackson had a stretch of 14.2 consecutive scoreless innings of relief from mid-July to early August. But he was also used as a starter twice in September. Jackson beat Cleveland, 8-2, on Sept. 14 and pitched a complete game, five-hitter in an 8-0 win at Detroit on Sept. 24.
In 21 appearances, including two starts, with New York in 1976, Jackson went 6-0 with a 1.69 ERA.
Jackson pitched twice in the ALCS against Kansas City. He is most remembered for surrendering a game-tying, three-run homer to George Brett in the eighth inning of Game 5. Chris Chambliss hit a walk-off home run in the ninth to give the Yankees the A.L. pennant. Jackson also pitched in Game 3 of the World Series.
Despite Jackson's regular season success, he was left unprotected in the 1976 MLB Expansion Draft and was selected 11th overall by Seattle. Just over one month later, he was traded to Pittsburgh.
Jackson played the final six years of his career with the Pirates, Montreal and Kansas City. He was the winning pitcher of Game 7 of the 1979 World Series against his former team, Baltimore.
Read more New York Yankees news on BleacherReport.com