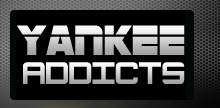 December 28, 2009 · Greg Fertel · Jump to comments
Article Source: Bleacher Report - New York Yankees
I've been on record saying that I am a fan of the deal that brought Javier Vazquez to the Yankees for Melky Cabrera, Michael Dunn, and Arodys Vizcaino. Yes, giving up Vizcaino hurt, but Vazquez is a top-notch pitcher so it was worth it to give up real talent for him. You have to give up value to get you value in return.
Add in the fact that the Yankees could possibly get draft picks back for Vazquez after the 2010 season, and that helps make up for the loss of the Yankees' top pitching prospect. In fact, if the Yankees do obtain draft picks when Vazquez leaves, those players could arrive in the majors before the young Arodys Vizcaino.
I've thought about the trade a lot, and have decided that the success and necessity of this deal can and should be gauged on the health of Ben Sheets. The Yankees have always expressed interest in Sheets, because like Vazquez, he's one of the top starts in the majors (when healthy).
Right now, Sheets is seeking a contract worth around $12 million, one that he probably won't get. In 2010, Vazquez will make $11.5 million, which is likely more than Sheets will receive from any potential suitor.
It seems that the Yankees took a look at Sheets' medicals and decided that he wasn't a good bet to stay healthy. What if they were wrong? What if Sheets goes on to pitch 150+ very good innings? I think that the team and their medical staff should be held accountable for this.
There is no question that having one year of a healthy Ben Sheets at $12 million plus Melky Cabrera, Mike Dunn, and Arodys Vizcaino is a much better option than one year of Javier Vazquez at $11.5 million. Now, if Sheets takes the mound and gets injured or is ineffective, this point is moot.
If another team sees Sheets' health records and decides he's well worth the risk, I won't forgive Brian Cashman for giving up real value for Javier Vazquez, when a pitcher of Sheets' caliber was available for just plain cash.
There is clearly value to the added stability of a Javier Vazquez. He is a true innings eater who takes the mound every five days. I don't think this extra stability is worth all of the value the Yankees gave up. There are a lot of factors at play here, but I think it will be fair to grade this deal in hindsight based on the health and productivity of Ben Sheets in 2010.
Read more New York Yankees news on BleacherReport.com