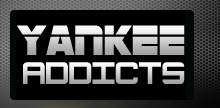 May 5, 2009 · Chad Matejicka · Jump to comments
Article Source: Bleacher Report - New York Yankees
Just over a month into the season, it is obvious that the Yankees have the necessary pieces to make it back to the postseason. However, with a lineup that changes daily, and a starter that should be in the bullpen, the Yankees will never come into rhythm.
Upon A-Rod's return from the disabled list possibly as soon as this Friday, the lineup should look like and stay as follows:
Johnny Damon – LF
Derek Jeter – SS
Mark Teixeira – 1B
Alex Rodriguez – 3B
Robinson Cano – 2B
Hideki Matsui – DH
Nick Swisher – RF
Jose Molina – C (when Jorge Posada returns from the DL, Posada moves up one spot, and Swisher slides down. This allows Swisher who is a high OBP guy, and Cabrera to set the stage for the top of the lineup by being on base a lot)
Melky Cabrera – CF
This lineup will allow the Yankees to have the necessary balance by allowing everyone in it the comfort of knowing where they are going to hit and most importantly placing them in slots that they are best suited for based on their talent.
The rotation on the other hand is a bit more controversial where many will continue to argue for Joba Chamberlain to stay in the rotation especially with Chien Ming Wang currently in the minors. But as I stated in the preseason, Chamberlain for many reasons is clearly better suited to be in the bullpen.
Chamberlain as a starter guides his pitches, has bad body language, holds his velocity back and simply does not create the fear and lights out ability that he does as a reliever.
He is a natural closer and he can become one of the best in 2011 when he will be just 25 after he learns from the greatest reliever of all time in Mariano Rivera.
If the Yankees so desperately want to tap the full potential of Chamberlain, why are they still limiting his innings? Do they realize that limiting him to 160 innings equates to 30 starts at five innings and that does not include the playoffs?
Are they doing so because they know he might become an injury risk? Why not just let him relieve where he can throw only 70 innings and affect the outcome of 60 to 70 games?
Instead, we have the privilege of looking forward to the 29th worst bullpen in baseball that sports a 6.50 ERA to protect any lead that the Yankees have.
A decision has to be made. One that is fairly obvious.
Just admit that you made a mistake. We as fans will forgive you.
Sounds easier said than done.