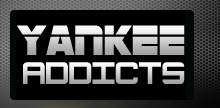 June 21, 2009 · DMtShooter Five Tool Tool · Jump to comments
Article Source: Bleacher Report - New York Yankees
I spent most of the day doing laundry, and caught parts of four different games here in the Man Cave. That, plus staring down the barrel at my Stat Tracker at three different fantasy leagues, leads me to pull the following nuggets of wisdom out of my nethers.
1. Jimmy Rollin's Lost Swing
If anyone has seen Jimmy Rollins' bat or head, would you please call the Phillies?
After today's 0-for-4 festival of weakness, the leadoff hitter for the defending world champions is hitting .217 with a .608 OPS, far and away the worst numbers of his career. He's not even stealing bases worth a damn (10 for 15), at least not in comparison with his usual self.
Given that the man is only 30 and was born in America (which is to say, his birth certificate does not have the usual Dominican issues), and I bid way too much for him at auction, I'd like to know what the deal is.
So would Philly Fan, who has watched his team drop six in a row on a 1-8 homestand that was one of the worst in franchise history, while still holding first place in the suddenly weak NL East. I'm really hoping that this is all pointless worry, and that Rollins will pick it up and get back to his usual numbers and self. That OPS ranks at 161 for all qualifying MLB hitters, which is to say, eighth worst of all hitters—not exactly what I was buying.
2. Yankees' Road Games
How many road games do the Yankees really play every year? You'd have been hard-pressed to find a Marlins fan beyond the folks who cheered when Hanley Ramirez destroyed a ball for the tying home run in what would eventually be a Fish "home" win over the Yanks.
The game will be noted more for the second inning exit of CC Sabathia, who suffered some form of worrisome tightness, and the Yankees playing the game under protest after the Marlins screwed up a double switch. It's not exactly a routine loss for the Bombers.
Just as I was putting this post to bed, there's news that they are going to have to rest A-Rod a game a week until the All-Star Break, due to that troublesome hip. Jeez, do these people like drama.
3. Matt Kemp in the Lineup
Memo to Joe Torre: I've given up trying to understand why you feel compelled to bury Matt Kemp in your lineup. I get that the guy is streaky, maybe not the headiest player in the world, and that it might be a little maddening to deal with from time to time.
He dropped a ball in the ninth inning tonight that he could have caught (Oh, and kudos to the official scorer for calling a ball off a glove as a double, costing me in my roto league, where I was tied in RBIs and opposing Hunter).
But let's consider the OPS of your starting lineup.
Pierre .806
Furcal .658
Hudson .849
Blake .881
Ethier .827
Martin .662
Loney .718
Kemp .863
Ausmus .757
You are aware that your second best hitter is hitting eighth here, right? You know, the place where Furcal should be hitting? Or perhaps Martin?
If I were running an MLB team, I'd be desperately trying to separate the Dodgers from Kemp right about now. I mean, Juan Pierre's played so well, right? He needs to keep going once Manny Ramirez is back. Ignore the fact that Kemp is 24, 21st in the entire NL in OPS, and plays a fine center field. He's just your No. 8 hitter! He can't be any good!
4. Oakland A's and Holliday
After today's loss to the equally ferocious Padres, my Oakland A's are 30-38, seven games out, and in last place in the utterly mediocre AL West, with the second-lowest runs scored in the AL. This leads everyone to assume that the Matt Holliday sales watch is on, which would be a fine idea, but only if Holliday's sales price hadn't dropped like a stone in his 68 games in Oakland (a ho-hum .790 OPS).
Oh, and Holliday makes $13.5 million a year, which the A's will, of course, want defrayed in the event of any move.
One problem with that idea is that there might be maybe five team in all of MLB who are able to even consider that kind of salary, let alone give up any kind of prospect for him. This leads to the real possibility that they will have given up prospects and useful pieces to the Rockies for a guy they can't get any kind of return value for. They might even have to throw a prospect into the mix to be rid of him. But remember, folks, Billy Beane's a genius! (And remember the fact that their All-Star representative will in all likelihood be Adam Freaking Kennedy).
5. The Yankees
The Mets might be the most efficient baseball team from a fan's perspective because you can limit your viewing of their offense to the 3-4-5 hitters (Carlos Beltran, David Wright, and Gary Sheffield).
Oh, and if you are pressed for time, feel free to cut Master Shef off the list, too. I get that they are missing their leadoff hitter (Jose Reyes) and usual clean-up hitter (Carlos Delgado), but this is an MLB+ team?
And they fell into Shef thanks to the Tigers cutting him loose in spring training. For a team with a new stadium, it's kind of astounding that they were going into battle with Ryan Church and David Murphy playing prominent roles, but it's not like they have the memory of two straight collapse years haunting their efforts. Oh, wait…