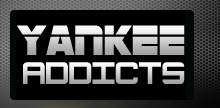 February 25, 2010 · Heartbeat Of The Bronx · Jump to comments
Article Source: Bleacher Report - New York Yankees
The Yankees experienced a magical 2009 season that resulted in their 27th championship. Everything fell into place in just the right way, and they avoided any and all unfortunate mishaps.
Alex Rodriguez was able to break out of his October nightmare, even after a crippling hip injury nearly derailed his season before it began.
Every season is different and provides a whole new set of obstacles, and this 2010 Yankee team is no different.
Here are the five most pressing issues facing New York in their hopes of a title defense, and it remains to be seen which—if any—will be the biggest hurdle for a confident and immensely talented Bronx roster.