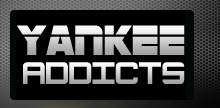 October 7, 2010 · Doug Gausepohl · Jump to comments
Article Source: Bleacher Report - New York Yankees
If Wednesday was any indication of how the rest of the MLB postseason is going to be, man, we are going to be a part of something special.
We witnessed something that had only happened once in postseason history before today, and that certain something, we could quite possibly not see happen again in our lifetime.
We saw a few more reasons for the expansion of the use of a certain video tool that can help the umpires get their calls right.
We saw…"DJ Kitty," the Tampa Bay Rays ill-advised knockoff of the Los Angeles Angels' "Rally Monkey."
Here are the five things we (well, me…I…, whatever) learned from the first day of the 2010 MLB postseason.